Judge Nugent has served the San Diego legal community for decades as both an attorney and a judge. Following a 35-year career in private practice as a civil litigator, he was appointed to the San Diego County Superior Court by Gov. Pete Wilson in 1998. He was assigned to an Independent Calendar Department for 15 years. The practice included trials and appeals in State and Federal Courts as well as appearances before administrative agencies including the Securities and Exchange Commission, the Board of Medical Quality Assurance, the Department of Alcohol And Beverage Control, and the New Mexico State Racing Commission. The combination of these
experiences required an understanding of a variety of complex business matters and issues related to insurance, real estate, contracts, professional liability, employment law, personal injury, and product liability, and involved proceedings requiring the interpretation and application of environmental laws. Judge Nugent retired from the bench in 2015, having presided over all types of civil law matters. In his final two years, he assumed responsibility for a department engaged exclusively in conducting settlement conferences.

Prior to his appointment to the bench, he was the founding partner of one of San Diego's oldest and most prestigious law firms. While in private practice he served as a Court appointed arbitrator. One client said, "To say that Judge Nugent took the bull by the horns would be a gross understatement. His ability to work with the clients directly, and either reduce or eliminate emotions, completed a Herculean task. I would highly recommend Judge Nugent for not only regular disputes but especially for those which seem to be beyond settlement."

Judge Nugent proudly served his country in the U.S. Marine Corps.
Practice Areas
Business/Contractual
Environmental
Insurance Coverage/Bad Faith
Personal Injury/Wrongful Death
Professional Malpractice
Real Property
Hobbies & Interests
In his spare time, Judge Nugent enjoys reading, exercising, and spectating all sports.
Legal Career
Neutral, Judicate West (2017-Present)
Private Mediator/Arbitrator, (2015-2016)
Judge, Superior Court, San Diego, Settlement Court (2013-2015)
Independent Calendar Judge, Superior Court, Vista (1998-2013)
Partner/Shareholder, Haskins, Nugent, et al. (1963-1998)
Education & Professional Affiliations
J.D., University of Pennsylvania (1962)
B. A., University of Pennsylvania (1959)
U.S. Marine Corps (1954-1956)
AAA Arbitrator Ethics & Disclosure (ACE003), (2016)
AAA Arbitration Fundamentals and Best Practices (2015)
AAA Arbitration Awards – Safeguarding, Deciding and Writing Awards (ACE001), (2015)
Court sponsored Mediation Training Program, Pepperdine School of Law Strauss Institute for Dispute Resolution
Achievements & Awards
Chair, Civil Law program for the Continuing Education of the Bar
Faculty Member, San Diego Inn of Court
Panel Member, Medical Malpractices Seminars
Lecturer, Continuing Education of Bar, Pretrial Motion and Writs
AV/Preeminent rating with Martindale Hubbell (1978)
Below is a sampling of the various matters Hon. Thomas P. Nugent, Ret. presided over on the bench, tried as an attorney, or handled as a neutral.
Contractual
The case involved a commercial lease and included issues of rent and property damage as well as a cross-complaint for fraud based on alleged misrepresentations of the permitted uses of the premises.
Fraud/Misrepresentation
The plaintiffs allege they were fraudulently induced into believing they were applying for a modelling career however were used to participate in pornographic videos which contrary to the representations upon which they relied were published on numerous pornographic websites.
Discrimination
An employment law case in which the plaintiff (employee) claimed wrongful termination arising from a failure to accommodate his physical disability.
Employment Law case with allegations of retaliation and ethnic discrimination.
Employment law matter involving allegations of sexual harassment and constructive discharge.  The plaintiff was a bartender and complained that the owner sexually harassed her to such an extent that she determined to terminate her employment.
Coverage
Issue involved interpretation of insurance contract. Case was pending in Federal Court where a Motion for Summary Judgment was pending.  Impetus to resolve the matter was provided by the failure of the Carrier to Reserve their rights prior to undertaking the representation of their insured which they subsequently withdrew.
Property Damage
Case involved the spreading of a wildfire that originated on the property of adjacent landowners and destroyed trees.  Issues included the applicability of Section 3346 of the Civil code which permits the doubling or trebling of the damages or parallels Health & Safety Codes which do not, as well as the appropriate measure of damages as between diminution of value of the affected property vs. cost of repair/replacement.  Additional claims for damages involved a loss of use of the affected property as well as an unpled claim for trespass on property assumed to be owned by the trespasser and determined to be owned by the affected property owner.
Medical Malpractice
A child abuse case including allegations of sexual molestation. Initial demand was in seven-figure range. Settled in six-figure range.
A Medical Malpractice case arising from allegations of sexual misconduct.  The Board of Medical Quality Assurance had conducted a hearing and reached a decision and the Doctor relinquished his license.
A Medical Malpractice wrongful death case arising from a laparoscopic procedure of a middle-aged woman in which the bowel was perforated and was undetected by the resident surgeon.  The plaintiffs included the decedent's husband and two adult children.
Landlord/Tenant
This case involves two parties originally from Serbia who agreed to a combination of contracts with a value well in excess of seven figures.  Neither party was represented and the resulting evidence of their agreement is in conflict.
Elder Abuse
The complaint alleged Elder Abuse and Negligence causes of action against an assisted living facility and its management company. The motions were in the form of Demurrers and Motions to Strike. The ruling will be filed separately however it was to deny the motions as they pertain to the assisted livings facility and to sustain the motions addressing the elder abuse cause of action as to the Management Company.
General Negligence
The plaintiff is a wheelchair-bound special needs child who was pushed down a five-step flight of stairs by another special needs student while at school. The school had been warned by the teacher that the classroom was too close to the staircase and the real issue was the extent of the damages which appeared to be minimal.
The initial cause of action was for the negligent handling of a corpse. The plaintiffs were the survivors of a decedent damaged during or immediately after being delivered to the funeral parlor. A cross-complaint was filed against insurance agents and companies for failure to obtain or cover the damages of the plaintiffs. Issues included duties of insurance agents/brokers, the validity of exclusions claimed by the carriers, and allegations of bad faith arising from a failure to defend and denials of coverage.
PI Auto
The case arises from a three-vehicle accident.  The plaintiff was negligent in causing a rear-end accident which resulted in a third party (truck) colliding with him as well.  The settlement value was determined by the extent of the injuries realized by the plaintiff which included an eight-figure estimate for the plaintiff's future care.
Motor Vehicle Accident with head injuries to the Claimant who failed to establish that it resulted in her having the condition of tinnitus.  The evidence ( 5 expert opinions and records) did not establish that condition, however did prove a hearing impairment for which general damages were assessed.
Judge Nugent was patient and empathetic with the parties, such that my clients felt that they were heard and understood, perceived as credible and honest, and would be treated fairly.
- Attorney on a Real Property Buy Sell Case
Judge Nugent was well prepared and very effective.
- Attorney on a Business Partnership Dissolution Case
Judge Nugent did a great job in getting the case settled.
- Attorney on a Neighbor Dispute
Judge Nugent was exceedingly well prepared, honest, not heavy handed, receptive to arguments provided by both sides, with an excellent demeanor.
- Attorney on a Complex Business/Contractual Case
Judge Nugent was compassionate to my client in a difficult and emotional case. I greatly appreciated that. He also quickly processed info and understood key issues in our complex multi-party case.
- Attorney on a General Negligence Case
I admired and respected Judge Nugent when he was on the bench. That admiration and respect continue with him as a mediator.
- Attorney on a Business Partnership Dissolution Case
Spot on! Sensitive to issues provoking law suit.
- Attorney on an Employment Discrimination Case
To say that Judge Nugent took the bull by the horns would be a gross understatement. I had been litigating a case for over four years, through a trial and two appellate hearings, with an upcoming arbitration staring us in the face. Despite being on the winning side of every decision, the opposing counsel was determined to continue this litigation as long as it was able to/ Starting with the statement, "I will work as long as I have to," Judge Nugent spent the next two days, with the first day going 13 hours, bringing the parties to a settlement which ended the litigation. His ability to work with the clients directly, and either reduce or eliminate emotions, completed a Herculean task. I would highly recommend Judge Nugent for not only the regular case, but especially for those which seem to be beyond settlement. Again, thank you for your help
- Attorney, San Diego, CA

Print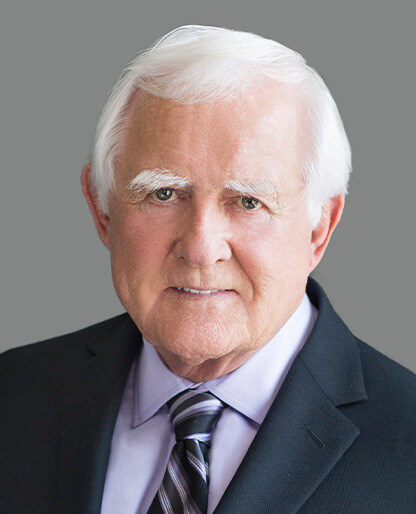 Based in San Diego | Available in All of California