With a multi-faceted career spanning work as a casualty and coverage attorney, insurance claims person, underwriter, and executive, Rachel brings a well-rounded perspective to all of her mediations. She has worn many hats in the dispute resolution process including serving as a decision-maker, mediator, counsel of record, party representative, plaintiff, and insurance executive with final settlement authority. This breadth gives her a deep understanding of the factors that motivate the parties involved to settle their cases. In the mediator role, Rachel is adept at building rapport with both sides through candid communication. Her expertise in property, liability, automobile coverage, regulatory compliance, and good faith claim handling has been particularly beneficial in working through insurance-related matters.

An attorney stated, "Thanks to Ms. Ehrlich's Herculean and masterful travails to get this thing settled. She crafted the perfect approach to eradicate all impediments to settlement, something I truly did not believe could happen. Obviously, I'll put her on top of my Best Mediators List."
Practice Areas
Business/Contractual
Class Actions
Construction Defects & Mold
Employment
Environmental
Insurance Coverage & Bad Faith
Government Liability
Personal Injury
Real Estate
Hobbies & Interests
Cooking interesting meals with family and friends, reading, and training their rescued dogs.
Website
Legal Career
Neutral, Judicate West (2016-Present)
Private Mediator and Arbitrator (2014-Present)
Appointed mediator to the United States District Court, Northern District of California (2015-Present)
Appointed Mediator, Superior Court of California, Alameda and Contra Costa Counties (2015-Present)
Appointed Arbitrator and Mediator, California State Bar and Contra Costa County Bar Association Fee Arbitration & Mediation Programs (2015-Present)
Dean, CLM Claims College School of Claims Mediation (2015-Present) Executive Council Member of and Instructor, School of Construction (2014-Present)
Chief Claims Officer & Vice President, CAMICO Mutual Insurance Company (2013-2014)
Senior Vice President, US Casualty Claims, Navigators Management Company (2009-2013, other positions held were Vice President Specialty Claims 2009-2012)
Claim Legal Coverage, Managing Counsel, The Travelers Indemnity Company (1997-2009, other positions held were National Team Leader for Regulatory Compliance 2004-2006, Claim Legal Coverage Counsel 1998-2005, Staff Attorney 1997-1998)
Associate, Robinson & Wood, Inc. (1996-1997)
Judicial Extern to the Honorable Judge Sandra Marguiles, Alameda County Superior Court, Law & Motion Department (1996)
Assistant Underwriter, Wexford Underwriting Managers (1992-1993)
Claims and Office Administrator, American E&S (now known as RT Specialty 1991-1992)
Education & Professional Affiliations
J.D., University of California Law, San Francisco, CA (1996)
B.A., University of California, Santa Cruz, Phi Beta Kappa, College Honors (1990)
The Mediation Society, Board of Directors (2015-Present)
ABA Committee on Mediator Ethical Guidance, Co-Chair (Present)
ABA Committee on Mediator Ethical Guidance, Appointed Member (2015-present)
ABA Section of Litigation, Member (2014-present)
Alameda County Bar Association, San Francisco Bar Association (Ethics Committee), Contra Costa County Bar Association, Member (2015-Present)
ABA Section of Dispute Resolution, Member (2014-present)
California Dispute Resolution Council (CDRC), Member (2014-Present)
Claims and Litigation Management Alliance (CLM), Mediator/Arbitrator Member
Mediation Advocacy, University of California, Guest Lecturer (2015, 2016)
Achievements & Awards
Alternative Dispute Resolution, Northern California Super Lawyers (2018-2020)
Negotiation/Mediation Process & Practice, UC Law SF, American Jurisprudence Award & CALI Award for Excellence (1996)
Below is a sampling of the various matters Rachel K. Ehrlich, Esq. handled as a practicing attorney or neutral.
Banking/Finance
Mediation of mortgage finance servicing and modification dispute.
Consumer Class Action
Privacy class action presenting over a trillion dollars in exposure with billions initially at issue settled in hundreds of millions of dollars. Settlement also included injunctive relief. Resolution was challenged by unique constellation of insurance coverage issues that were being separately litigated, pending legislation, and timing for defendant Board of Directors to approve settlement.
Contractual
Mediated multi-party matter in which a commercial lease, property damage, and future profits were at issue. Negotiations were complicated by first and third party insurance coverage issues and an insurance subrogation claim.
Mediated contractual indemnification matter complicated by direct CGL coverage issues and additional insured coverage issues.
Mediated product liability matter. Plaintiff, a food server, sustained third degree burns when splashed with hot liquid. Plaintiff alleged defective design of a commercial hot beverage brewing appliance.
Mediated complex real estate dispute involving trust deeds, reconveyances, rescission and voiding of conveyances, subordination of secured mortgages, and alleged breach of marital settlement agreement.
Mediated commercial litigation relating to sale of a business, assignment of leases, and assumptions of liabilities. Liabilities at issue included performance by seller and buyer under purchase agreement, funding pension liabilities, and environmental clean-up.
Mediated non-litigated dispute involving damage to a commercial leased retail premises. Issues included first party property and third party liability insurance coverage issues, indemnification agreements, subrogation waivers, lease modifications, rent abatement, and lost business opportunities.
Mediated matter involving destruction of family's belongings during transport by a moving company in a work-related relocation. Legal issues centered on inter-state carrier liability for household goods.
Mediated recoupment action by company that paid to defend itself for the consequences of the actions of a vendor that it hired.
Mediated insurance broker agent E&O matter arising out of additional premium collection action. Additional premium was charged after a general liability insurance policy premium audit provided for in the policy.
Limited Liability Company formed to acquire a piece of real estate. At issue was whether the surviving spouse of a member of the LLC was bound by the terms of the Operating Agreement.
Claim against app platform that connects household services providers with householders. A householder's home was burgled and valuable personal property was stolen by a provider of household services who had once serviced that home. Issues included the monetary and sentimental value of the stolen property and emotional distress caused by the burglary itself and encountering the burglar at the home. Issues also included arbitration provision and class action waiver.
Fraud/Misrepresentation
Fraud and misrepresentation alleged against business broker by seller in transaction. Allegations included that broker colluded with straw-buyer resulting in death of business.
Constr. Defect/Real Property
Mediated a business dispute arising from refurbishment of a power plant. Allegations included payment delays, design issues, and construction/execution defects with consequential output deficiencies.
Matter involving the construction of a high-end custom home. Cross-allegations of breach of contract based on the contractor's alleged failure to complete work called for under the contract and the homeowner's failure to pay holdback. Negotiations were complicated by allegations of defamation, subcontractor liens, and claim for disgorgement due to use of an unlicensed subcontractor.
Construction Breach Of Contract
Mediation of claim by homeowners against remodeling contractor regarding alleged sub-standard and incomplete work.
Mediated payment dispute between homeowner and a contractor over work performed by the contractor. Contractor contended that homeowner should have paid pursuant to contract and change orders. Homeowner contended that contractor failed to complete the work and the work that was done was shoddy.
Construction Defects
Mediated residential multi-home construction defect matter. Two mediation sessions were held and total time from when mediation commenced until settlement with all defendants and plaintiffs was five months. Telephonic, e-mail, and text communications were instrumental in bringing the matter to resolution.
Mediated residential multi-home construction defect matter. One mediation session was held and total time from when mediation commenced until settlement with all defendants and plaintiffs was six months. Telephonic, e-mail, and text communications were instrumental in bringing the matter to resolution.
Mediated residential multi-home construction defect matter. Mediation commenced before homeowners initiated action against developer. Cross-defendants settled out continuously throughout.
Mediated residential single-family home construction defect matter against developer-general contractor who built the house "on spec." Parties were highly contentious, emotional, and entrenched. There was no insurance coverage for developer-GC due to applicable exclusions which needed to be explained to plaintiff-homeowners. In five hours, matter settled in mediation session and final agreement was drafted and executed.
Mediated construction defect matter involving single family homes. Alleged defects included soils, concrete, stucco, framing, windows, flashing, roofing, and interior systems. Parties to the mediation included homeowners, developer, subcontractors, and insurers for defendant developer and cross-defendant subcontractors.
Construction standards issues. Building owner hired general contractor to effect remodel of building on a time and materials basis. The GC allegedly hired largely unlicensed subcontractors or laborers, performed substandard work including work that required structural remediation, and claimed to have completed work that turned out to be unfinished. License bond sureties responded for all licensed contractors who worked the project. In addition, owner obtained a multi-six figure administrative award from the Contractors State License Board. Issues included lack of insurance for some trades, insurance coverage issues under CGL policies, and potential bankruptcy.
Contractor hired to remodel single family home. Homeowners alleged that work was not performed and the work that was performed was defective. A claim was made against the license bond. Issues in mediation included nature and extent of damage that might be covered by insurance.
Sexual Harassment
Sexual harassment and discrimination against lesbian in a construction trades business. Employee left within probationary period. Employer conducted investigation. Documentation of communications by employee and employer included text messages and email. Mediation was pre-litigation.
Wage and Hour
Mediated appeal of Labor Commissioner award in a wage and hour dispute. Employer had posted bond for full amount of the award. Agreement reached and final agreement drafted and executed in eight hours.
Environmental Issues
Environmental contamination action brought by neighboring landowners. Issues included nuisance and trespass, measures of damages, and import of ongoing agency enforcement action.
Bad Faith
Mediated coverage and bad faith matter under cyber liability policy. Government investigation into insured's practices.
Mediated coverage and bad faith matter regarding Employment Practices Liability policy. Underlying matter involved wage and hour violations, misclassification, and discrimination on the basis of national origin and race.
Mediated first party property commercial insurance coverage and bad faith dispute that was not in suit. The loss at issue implicated affirmative coverage grant for earth movement, the definition of earth movement, cause of loss, and choice of law.
Mediated insurance bad faith dispute under D&O policies. Underlying action against the directors and officers concerned misappropriation of trade secrets and duties of loyalty to a former employer. Alleged bad faith included the insurer's failure to communicate about settlement opportunities, eroding policy limit, and litigation strategy.
Mediated personal lines first party property coverage and bad faith action. Issues included ordinance and law, underwriting, policy notices, and claims handling.
Mediated coverage and bad faith dispute and underlying case. Issues presented included choice of law regarding standards governing insurance company's claims handling when D&O policy was issued in one state covering a company that was headquartered in one state and was originally formed in another state and the underlying litigation against the company and its directors was in yet another state.
Mediated insurance coverage and bad faith matter concerning coverage under D&O policies for expenses associated with government investigations.
Mediated insurance coverage and bad faith matter concerning coverage under corporate E&O policies for multiple claims facing policyholder including consumer claims and government investigations.
Mediated first party property coverage and bad faith suit against homeowner's insurer. The homeowners suffered a total fire loss. Homeowners and children fled the home upon being woken by the fire. All belongings including ID, credit cards, and cell phones were lost. There was a dispute over the cost of construction exacerbated by permitting delays that resulted in additional living expense issues. Also at issue was the adequacy and clarity of communication by the insurer and whether homeowner could sufficiently document replacement cost for contents.
Mediated disability insurance coverage and bad faith matter. Issues included total versus partial disability, benefits limitations, present value, and propriety of claim investigation.
Mediated first party property coverage and bad faith homeowners insurance matter arising from a fire that burned part of the home. Issues included scope of repair, necessity of making changes to electrical system, presence of asbestos and scope of abatement required, appraisal provision, and insurer's conduct during investigation of the claim.
Mediated builders risk insurance coverage matter. At issue was compensation for delayed completion. Appraisal award had already issued and negotiation focused on the indemnity period, lost income, whether additional financing costs had been incurred, and whether additional financing costs and lost income were offsets.
Mediated and performed Early Neutral Evaluation of coverage and bad faith matter between policyholders assignee and insurance carrier. Coverage issues included infringement of trade secrets under CGL cover and the "no action" clause. Extra-contractual issues included whether, when the insurance company is providing a defense, a California policyholder can settle an action without the overt consent of the insurance company for a stipulated judgment and a covenant not to execute. The stipulated judgment was for an amount in excess of the policy limit and the policyholder paid the amount that exceeded the limit. The settlement was entered into after a preliminary injunction in the underlying matter was issued against the policyholder.
Mediated D&O insurance coverage matter regarding expenses associated with responding to a governmental investigation.
Coverage and bad faith. Commercial first party policy issued to a hotel. Water loss due to a sudden discharge of water from a pipe damaged certain rooms and adjacent hallways and common areas on floors below, including lobby. Issues included California's standard for scope of repair relative to achieving a reasonably uniform appearance, whether the cost to comply with brand standards is the proper measure of replacement cost, the appropriate method to calculate business interruption in view of varying occupancy and nightly rates for damaged rooms, and alleged delay in payments of undisputed amounts.
First party property claim under homeowners policy for contents off-premises. Issues included insured premises, suit limitations conditions, notice of loss, and documentation of ownership and position at the time of loss.
Coverage, bad faith, and contractual indemnification matter. Retailer was sued for personal injuries arising out of a consumer product. Retailer sought defense and indemnity from both the manufacturer pursuant to contract and the manufacturers insurer as an additional insured. Retailer paid for defense and settlement and sought reimbursement from manufacturer and from its insurer alleging breach of contract and insurer bad faith. Manufacturer and insurer asserted contractual defenses.
Action against insurer and broker relating to insurance coverage under E&O policy for a third party administrator. Intricacies included exceptions to an exclusion, applicability of a sublimit to defense fees and costs, and broker standard of care upon renewal when policy taken over on a BOR.
First party property insurance coverage and bad faith action arising under jewelers block policy. Disputed issues around representations on application, warranties, and claims investigation.
Disability benefits dispute relating to policyholder's active work status at the time the disability commenced, whether the disability was due to a mental health issue (stress) or the physical issue that caused the stress, and benefits period.
Insurance coverage and bad faith dispute arising from burglary and theft of product from urban cannabis grow operation. At issue was enforceability of policy condition relating to warranty for protective safeguards (alarm system, motions sensors, cameras, etc.) and whether the CGL portion of the package policy might apply to building damage to leased premises in view of stated sublimit.
Voluntary payments condition. Dispute over whether carrier had breached defense duty by paying independent counsel based on the carrier's panel rates and thereby excused the policyholder from compliance with policy conditions including voluntary payments condition. Policyholder was seeking to negotiate settlement with third party claimant while carrier was providing a defense in a jurisdiction that precludes such policyholder conduct.
Homeowners coverage for water damage. Issues included policyholder refusing to submit to Examination Under Oath, proof of loss changes, and timing of supplemental claim documentation.
Coverage
Mediated coverage matter under commercial first party property policy. Fire loss to multiple insured structures. Valuation under various coverage parts was at issue.
Mediated coverage matter regarding allocation between various professional liability policies. Different medical professionals/entities were defendants in multiple underlying actions each insured by the carriers involved in the coverage action.
Mediated coverage matter regarding allocation of indemnity and defense between CGL and D&O policies insuring same entity on a named insured and additional insured basis.
Mediated insurance coverage dispute under Commercial General Liability insurance policy for mass tort for personal injury, property damage, and nuisance. Multiple underlying suits brought by persons whose residences were in the neighborhood of an industrial shredder operated by a metal scrapyard.
Mediated dispute between marine insurance companies that insured the same entity. Coverage dispute was whether the injured party in the underlying suit was covered as a longshoreman or a Jones Act seaman.
Early Neutral Evaluation of personal lines insurance coverage and bad faith matter in which insurer had denied the claim on the basis of fraud.
Mediated product liability coverage dispute under general liability policies. Plaintiff in underlying action had suffered a catastrophic injury and if there was no coverage under one set of policies the available insurance was insufficient to cover incurred and future damages.
Mediated dispute over Errors & Omissions coverage for settlement of a suit against a managed care entity by a provider entity.
Mediated additional insured coverage dispute between developer and additional insured carrier. The developer was not sued by the underlying claimants, the developer handled the thousands of claims presented as it would warranty claims by paying for repairs and sought coverage as an additional insured under the allegedly responsible subcontractor's policy.
Mediated insurance coverage dispute between developer and additional insured carriers regarding payment for defense fees and costs and related disputes amongst the putative additional insurers. Underlying case was a construction defect matter. Issues presented included assertions by the insurers that there was no occurrence and no property damage, that additional insured coverage was afforded for ongoing operations only, and various other defenses based upon the policies. The insurers also disputed the sufficiency of the original tender for coverage by the additional insured and whether all fees sought related to defense of the underlying matter.
Mediated mass tort nuisance causing personal injury and property damage to neighboring properties. Resolution was complicated by insurance coverage issues and allocation issues amongst plaintiffs.
Mediated an insurance coverage matter following from a settled construction defect matter. Developer was seeking payment toward defense costs from additional insured carriers. Focus was on the scope of an additional insured carrier's duty to defend when there are other, non-participating, additional insurers. Also at issue was decisional law of Arizona, California, and Nevada.
Mediated multi-defendant matter arising out of water damage to a condominium. Defendants were a unit owner in the unit the water originated, HOA, and first party property insurance company for the plaintiffs. Claimed damages included water damage to drywall and other building components, mold, personal injury caused by mold, and insurance company bad faith claims handling. Among other things defendants asserted that plaintiffs failed to mitigate the water loss in the first instance and failed to timely report it to their own insurance carrier. Mold exclusions were an issue in connection with all involved insurance, both the first party property and third party liability.
Mediated an insurance coverage matter involving policies issued to bank trust entities. Coverage issues included notice of claim or circumstance under claims made policies, timing and what constitutes a "wrongful act," allocation, policyholder warranties, and tail coverage. Other issues included indemnity rights and other insurance provisions.
Insurance coverage and bad faith matter arising out of policyholder wireless telecom contractor's liability for property damage allegedly caused by rainwater intruding into a building during installation of a system upgrade on building's roof. Issues included allocation between general liability excess coverage and contractor's professional liability coverage that included pollution coverage in addition to reasonableness of repair costs incurred.
Insurance coverage dispute between Commercial General Liability and Professional Liability insurers. Mutual policyholder had been sued for antitrust issues and professional liability insurers had contributed toward defense the action. Policyholder settled the underlying action and sought indemnity for settlement. At issue amongst the insurers was which tower of coverage might most be implicated, policy periods, and reimbursement of defense fees and costs.
Contractual indemnity and equitable subrogation action brought by developer and its insurer against subcontractor asserting developer's contractual indemnity rights arising from construction defect action. Action was brought after resolution of the underlying action. Issues included whether additional insurance contribution toward developer's defense by subcontractor's insurer satisfied subcontractor's contractual defense obligation, timing of that contribution, burden of proof, and availability of evidence in view of the effect of mediation confidentiality on information that was developed in the underlying action.
Wildfire first party property loss of high value home. Issues included debris removal, lost rental income, and when and how replacement cost valuation triggers.
Virtual mediation involving insurance broker E&O. Nine figure tower of professional liability coverage was placed through defendant broker. Entire tower was supposed to be following form. Certain provisions at an upper level in the tower deviated from those of the lower levels creating coverage issues and blocking access to layers above.
Insurance Broker Agent Malpractice
Mediated matter pending against retail and wholesale brokers involving CGL coverage for distributor of consumer products. Issues included standards for liability of retail brokers and wholesale brokers, policyholder duties, and availability of requested coverage.
Property Damage
Mediated first party property insurance coverage and bad faith matter under homeowners policy. Total fire loss of policyholders' home. Issues included clarity and timing of communication by insurance company personnel regarding coverage limitations and policyholder statutory rights, sublimits for code upgrade and additional living expense, and adequacy documentation and timeliness of policyholders' replacement of building and personal property.
Subrogation
Served as Neutral Evaluator of insurance coverage dispute between primary and excess insurers in which excess insurer contended primary should have paid double. Issues presented included standards of insurance policy interpretation and construction.
Mediated case brought by excess insurer against primary insurer. Primary insurer paid its limit and excess insurer also paid to settle suit against mutual policyholder. Excess insurer contended that the primary had opportunities to settle within the primary limit and, having failed to do so, owed the excess insurer what it contributed to settle the underlying matter.
Mediated an insurance contribution matter brought by insurer that paid under a CGL policy for defense and settlement of a matter against its named insured and defense of an employee. Insurer that paid was seeking contribution from CGL insurer of the employee. Negotiations were complicated by a potentially applicable sublimit in the employer's policy for a liability category that was expressly excluded by the employee's policy.
Mediated a product liability subrogation action by homeowners insurer against faucet manufacturer for water damage to insured home due to a burst supply line. Allegations included design defect leading to corrosion and premature failure of the supply line.
Mediated subrogation matter involving water damage to a medical facility caused by a fire sprinkler discharge. Renovation project underway and a sprinkler head needed to be changed. Water was not shut off before the head was removed. System had more than one shut off, there was a dispute over the standard of care regarding turning off the water to that sprinkler head and dispute over scope of business interruption benefits paid.
Fire destroyed a commercial facility and allegedly caused fire and smoke damage to adjacent and nearby properties. Insurer of a nearby clothing wholesaler paid for inventory that was allegedly damaged by smoke that infiltrated the warehouse. At issue in the subrogation matter were whether the commercial facility's owner was responsible for the fire because there were allegedly people living in the non-residential facility or whether arson by a person who may or may not have been one of the alleged dwellers was a superseding intervening cause of the fire such that the property owner could avoid liability.
Subrogation. Single family home burned during remodel. Fire and smoke damaged neighboring property. Insurer of neighbor sued both the fire homeowner and the remodeling contractor.
Fire loss to a car dealership and automotive repair facility. Fire started on neighboring property. Allegations included setback violations and neglect of building and vegetation maintenance as causes of the fire and its spread. Counter allegations included building maintenance neglect and setback violations by car dealership and overpayment by subrogating insurer due to alleged bad faith claim handling.
Professional Malpractice Legal
Legal malpractice action with two underlying matters. The first underlying case was dissolution of a business. The second underlying case was legal malpractice against one of the lawyers in the first case.
Breach Of Contract
Mediated dispute over earnest money in home sale. Sellers contended that buyer breached the purchase contract when buyer cancelled the contract on the basis that the loan could not be funded. Buyer presented information that loan underwriters declined the loan due to buyer's income to debt ratio.
Buy/Sell
Real estate sale non-disclosure issue. Sale of mixed use building in city with "just cause" and "rent control" ordinances. After building sold, purchaser and seller received notice of petition filed with rent board by existing tenant for relief from improper rent increases. Purchaser contended that seller received notice of the petition prior to sale and that the property had diminished value because of the now-known issues with possible improper rent increases to the subject and other existing tenants.
Real estate professional liability matter. Residential buyer alleged fiduciary liability against buyer's agent and broker relating to adequacy of guidance regarding seller's disclosures and supplemental disclosures and buyer's inspection decisions.
Real estate non-disclosure action. Sellers of home provided in disclosure packet reports from home inspectors and a structural engineer. After escrow closed buyer discovered unusual conditions at the property that buyer argued should have been disclosed by sellers and should have been in engineer's report.
Home Owners Association
Mediated dispute between homeowners association (HOA) and association member (homeowner) regarding fence placement, characteristics, and other issues that the HOA claimed violated applicable CC&Rs. Homeowner claimed that the HOA should have issued a variance. Matter was pre-suit.
Mediated dispute between HOA and member. At issue were certain activities that the HOA permitted to take place in association common areas that the member contended violated the CCRs.
HOA contended owner-member violated CC&R mandated fence setbacks and height requirements. Owner-member contended that the setback and height were appropriate. Issues included the meaning of setback reference items such as property line and street line.
Landlord/Tenant
Mediated landlord-tenant matter in which landlord alleged nuisance caused by tenants and tenants alleged habitability, retaliatory and constructive eviction, discrimination, and harassment.
Mediated multiple unlawful detainer matters involving non-payment of rent, nuisance, breach of lease conditions, owner-move in, and Ellis Act.
Mold exposure and contamination claim by residential tenant against landlord and property manager. Case resolved through extensive and substantive mediated telephonic negotiations in advance of scheduled mediation session.
Mediated action by HOA against owner and tenant over non-conforming fence. Issues included compliance with CC&Rs, variance, recordation of variance, and specific performance.
Mediated a landlord-tenant/housemate wrongful eviction matter. Allegations included violations of California Civil Code and San Francisco ordinances.
Mediated landlord/tenant dispute. Allegations by tenants centered on wrongful eviction in Berkeley, California. Issues included owner move in rules and adequacy of notice.
Mediated mass tort, uncertified class action brought by tenants against landlord for habitability, rental value, security deposits, moving costs, increased living expenses, and medical issues. All tenants occupied cabins on a rural property. At issue was a previously permitted water system that was no longer permitted and later coliform bacterial contaminants were found in the water leading to a series of water supply interruptions and ultimately to the entire property being red-tagged and all tenants moving out.
Landlord-tenant dispute with allegations of harassment, constructive eviction, and habitability issues. There was a pending Unlawful Detainer action against tenants for nuisance and a history of cross-motions for restraining orders and San Francisco Rent Board Petitions.
Landlord tenant case turning on habitability issues. Landlord purchased property out of foreclosure with existing tenants and habitability issues. Defenses asserted included obstruction by tenants and refusals by tenants to allow landlord to abate the habitability problems thus prolonging them. Issues addressed in mediation included Costa Hawkins, Ellis, local tenant protection ordinances, admissibility of non-payment of rent, and asserted lack of insurance coverage for enhanced damages, attorneys fees, punitive damages, and tenant buy-out.
Landlord-tenant habitability matter arising from tenancy in a single family home in Los Angeles in which Stachybotrys and other mold-types were discovered by the tenant. There were claims for retaliatory eviction, property damage, and personal injury.
Landlord-tenant. Multiple issues presented including illegal residential unit in commercial building, failure to provide utilities service, mold, water intrusion due to waste pipe and window leaks, and failure to cure notices of violations.
Landlord-tenant. Multiple tenants sued for breach of warranty of habitability issues that included chronic vermin issues (bed bugs and cockroaches), weatherproofing, electrical problems, and mold due to water leaks (exterior envelope and plumbing). Corporate owner was facing insurance coverage issues asserted by multiple insurance companies including gaps in coverage during the pertinent time period due to cancellations.
Commercial landlord/tenant dispute. Multiple retail and foodservice industry tenants including boutiques, brewery, and restaurants were adversely impacted by extensive flooding. Allegations against the landlord included failure to deploy flood mitigation and resistance measures and failure to follow plans.
Property Damage
Mediated residential real estate non-disclosure dispute. Issues included allegations of professional liability due to agent's dual agency status, black mold (stachybotrys), and allegedly defective repairs seller agreed to make.
Equine deaths and health impairment due to consumption of contaminated hay. Action against hay producer by equine owner, breeder, and trainer. Issues included valuation of equines, land management, and hay production practices.
Real Property
Mediated neighbor tree dispute. View homeowner sued tree homeowner to restore view that had become impaired by a tree and to address smaller trees that had not yet but could grow to impair the view.
Mediated eviction case of a holdover owner post mortgage foreclosure auction. Reverse mortgage complicated by state subsidies for insurance and HOA dues.
Warranty of Habitability
Mediated landlord-tenant matter. Tenant plaintiffs asserted landlord breached warranty of habitability, discriminated, retaliated, and violated local tenant protection ordinance. Three out of five plaintiffs settled during a mediation session.
Mediated landlord-tenant dispute that was in litigation. Current owner and prior owners of property were defendants to the action brought by multiple former tenants for wrongful eviction, discrimination, and habitability issues.
Landlord-tenant in a CA apartment complex. Breach of warranty of habitability claims made by multiple tenants residing in multiple units, some with minor children. Suit was against involved prior owners, current owner, and current property management company. Issues included chronic vermin infestation, electrical issues, mold, inoperable windows and doors, and compromised security devices. Resolution discussions included monetary and non-monetary terms as all tenancies were continuing post-settlement.
Landlord-Tenant habitability and discrimination matter. Allegations of extensive water intrusion that caused mold to grow throughout the unit and ceiling to collapse. Tenants presented photos of mold on personal property in addition to mold in multiple rooms in the unit including on interior walls.
Landlord-tenant wrongful eviction, constructive eviction, harassment, and habitability issues. By the time of mediation tenant had vacated the property.
Landlord-tenant dispute involving a remaining plaintiff in what was a consolidated action of several cases brought by different tenants against successor landlords for the same apartment complex. Allegations included ongoing habitability issues, consisting of code violation and general disrepair.
Warranty of habitability action regarding an Oakland, CA property. Tenancy of more than two decades, history between the parties included Rent Board Petitions, Appeals, and Unlawful Detainer Actions. Issues in mediation included tenancy buy-out, Oakland's tenant protection ordinances including "just cause" eviction, and race.
Pre litigation habitability claims. Multi-unit building. Multiple units at issue with adults and children. Alleged issues of cockroaches, bed bugs, and rats and vermin. Code enforcement findings regarding deficient heaters for more than a year. Landlord asserted that issues were addressed as they were raised and that some units had functioning heaters but that tenants did not have gas turned on.
Assault and Battery
Mediated personal injury case against nightclub by patron who was injured when ejected from the establishment. Injuries sustained were to the head and face.
Personal injury action by prison medical service provider for injuries sustained when attacked by an inmate. Suit was brought against the guard(s) for allegedly failing to follow procedures to ensure the safety of staff and inmates. At issue were the duties owed to staff in contrast to those who are in custody.
Complex personal injury, insurance coverage, and insurance broker professional liability mediation. Two separate personal injury actions arising out of different incidents on different dates at the same bar were pending were in different state courts. Insurer asserted an Assault & Battery sublimit applied to both incidents and filed an interpleader in federal court. Policyholder cross claimed for bad faith against the insurer and asserted insurance broker negligence. All parties who participated in mediation were represented by counsel for the various actions and by coverage counsel.
Catastrophic Injury
Mediated wrongful death construction site accident matter – fall from scaffolding. Negotiations were complicated by competing claims by decedent's surviving spouse and minor child, and criminal action against employer as serious and willful violations were found.
Mediated traumatic brain injury matter with multiple defendants, including a state agency. Issues included road construction signage design and execution, contractual risk transfer, additional insured obligations, and allocation amongst defendants.
Mediated wrongful death case. Decedent was survived by mother. Decedent was struck by a vehicle driven by a private party who lost control of vehicle in a roadway construction zone and veering onto sidewalk. Mediation involved the construction company only.
Railroad worker injured while on the job. Liability disputed under FELA standard and extent of damages disputed based on expert opinions.
General Negligence
Personal injury matter. Dog attack at a commercial premises, multiple bites to arm and plaintiff's dog. There were three defendants consisting of the dog owner, dog owner's nominal employer, and premises owner. Pivotal issues amongst defendants included independent contractor status of the dog owner, whether the dog owner was in course and scope of retention at the time of the attack, premises owner's responsibility to invitees relative to dogs of other invitees, and insurance coverage for dog owner. Matter settled during mediation session.
Mediated trip and fall in which plaintiff struck leg and head. Plaintiff was a retiree so there was no wage loss. Prior to the injury plaintiff was able to garden and walk dogs, after the injury these activities were no longer possible.
Mediated matter in which physical (not sexual) and psychological abuse was alleged against a daycare center. Parties included business principal, the alleged perpetrator, and parents of the children. Matter was not in suit, all parties were represented by counsel, and insurance carrier for daycare center was involved.
Children were placed in backseat of car by parent, driver pulled away before parent could enter the vehicle. Driver returned to parent's location within fifteen minutes. At issue were degree of emotional distress suffered by parent and children.
Personal Injury
Mediated personal injury action arising out of a slip and fall in the bathroom of a chain restaurant. Defendant questioned whether the incident had occurred and whether the claimed injuries were related as plaintiff had similar complaints prior to the alleged date of injury.
Mediated personal injury matter arising from an incident involving a horse. Liability and damages were disputed. Plaintiff alleged the horse charged from behind, causing a hard fall and that hooves hit Plaintiff's leg. Allegations included failure to warn and knowledge of a dangerous propensity. Defendant alleged that the horse butted or nudged Plaintiff causing Plaintiff to fall. Plaintiff alleged that the reason Plaintiff and Defendant were in the pasture was Plaintiff was doing a favor for a friend. Defendant alleged that Plaintiff assumed the risk of harm and was barred from recovery by the "veterinarian's rule" because Plaintiff was an experienced horseperson who regularly offered holistic treatment to horses, had previously treated the horse in question, and was in the pasture to treat another horse - which treatment was rendered after the incident. Injuries were soft tissue, the most serious of which was a rotator cuff tear that appeared in the MRI films done within a few months but was not diagnosed until nearly two years after the incident.
Personal injury, slip and fall on water in high traffic area within grocery store. Unusual and severe injury (bilateral hip fractures necessitating bilateral surgery and hardware). Origin of water was unknown as was the amount of time it had been on floor.
Slip and fall in a waterpark. Multiple defendants including the waterpark owner, contractors, and product manufacturers. At issue was whether the surfaces were appropriately designed and installed and whether Plaintiff assumed the risk of injury.
PI Auto
Mediated personal injury auto accident matter in which rotator cuff repair was at issue along with soft-tissue injuries. Plaintiff's Medicare status became sticking point in finalizing settlement.
Mediated Uninsured Motorist matter involving a hit and run vehicle. The injured policyholder suffered soft tissue injuries and missed six weeks of work. Matter settled during follow-up after initial mediation session.
Mediation of personal injury action involving vehicle striking pedestrian. Open workers compensation claim and reimbursement rights were factors in ultimate resolution.
Mediated personal injury matter arising from an auto accident. Primary injury to plaintiff was a broken tooth and consequent impact to income as a salesperson.
Mediated non-litigated personal injury matter. Solo auto accident, driver charged criminally with DUI, passenger sustained injuries to face, eye, and sinuses.
Mediated personal injury action arising from a bus striking a vehicle that had run a red light. Bus driver's claimed injuries impaired driving requiring surgical intervention. Cameras inside the bus recorded both the red light running by the other vehicle and movement of the bus driver upon impact.
Mediated auto accident personal injury action. Plaintiff sustained soft tissue injuries and was primarily treated by a chiropractor. Negotiations were complicated by property damage relating to value of plaintiff's vehicle.
Mediated personal injury action in which plaintiff's dominant hand was broken in an auto accident. Plaintiff was unable to work at all while the hand was healing but had no documentable income due to the nature of the work. Matter settled in mediation as defense was willing to consider a portion of Plaintiff's lost income.
Mediated auto accident personal injury action. Plaintiff sustained soft tissue injuries and was primarily treated by a chiropractor. Negotiations were complicated by property damage relating to value of plaintiff's vehicle.
Mediated personal injury matter involving hand injuries sustained when plaintiff bicyclist hit an open door of a parked vehicle. At issue was who was at fault for the accident as the bicycle collided with the interior of the driver's side door and damages (value and degree of recovery of hand function). Plaintiff contended that defendant driver left the door open too long. Defendant contended that plaintiff was moving too fast for conditions and failed to keep a proper lookout.
Personal injury action arising from auto accident. Offset rear-end collision occurred as plaintiff was accelerating after a turn. In dispute was whether defendant was speeding, how long after Plaintiff's turn the collision occurred, and nature and extent of damages.
Personal injury action against trucking company arising from a multi-vehicle accident. Liability was contested, and one of the involved drivers changed the report to law enforcement months after the accident. The remaining plaintiff had lengthy gaps in treatment and diagnosis post-accident.
PI Sexual Assault
Mediated acquaintance sexual assault and battery in a public location. Injury to Plaintiff's person caused permanent nerve damage and necessitated surgery. Associated criminal action had concluded and defendant was on probation at the time of the mediation. High net worth defendant, no insurance involvement in settlement.
Mediated civil sexual assault matter. Case concerned a multi-year sexual relationship between adult and minor who met online. Negotiations were complicated by potential for Federal criminal penalties.
PI Sexual Molestation
Molestation of male high school student by female teacher.
Sexual abuse of teenage girl in 1970's by adult employee of school. At issue was whether and to what extent persons of authority within the school knew or should have known of the abuse. No statute of limitations issue due to California extension.
Premises Liability
Mediated personal injury action matter involving a big box home improvement store. Claimant suffered a cut to the leg requiring stitches and resulting in permanent scarring. Settled during mediation session.
Mediated slip and fall in a retail establishment. Disputed was whether the condition that caused the fall was in existence for sufficient time for the business to have notice. Extent of injury and treatment was undisputed.
Mediated slip and fall at a retail establishment. Fall was recorded on security video that also showed creation of the condition by an employee of the business. Disputed was whether the warning signage was sufficient and appropriately placed. Undisputed was that the fall necessitated replacement of existing hardware in plaintiff's back, disputed was whether any future medical specials could be attributed to the injury sustained in the fall.
Mediated personal injury matter involving broken clavicle sustained by a minor in a bicycle accident. Accident occurred in an area where defendant construction company was working, front wheel of bicycle was caught in cut pavement.
Mediated personal injury matters involving the same plaintiff arising out of two separate incidents with two different, otherwise unrelated defendants. The first incident occurred in a retail establishment and product struck plaintiff on the head and other parts of the body causing plaintiff to fall. The second incident that occurred nearly a year later was a motor vehicle collision. Both incidents exacerbated existing degenerative conditions in the elderly plaintiff.
Mediated premises liability personal injury matter involving minor child. Defendant homeowners allegedly created a dangerous condition in their yard that resulted in a tween gaining access to a roof and falling through a skylight. Injuries included a broken back (no paralysis) and broken wrists. Full physical recovery was made within one year.
Mediated personal injury matter in which plaintiff's injuries were an exacerbation of severe pre-existing condition for which treatment had been ongoing for years prior to the subject incident. Plaintiff contended that the exacerbation was forcing disability retirement and defense disputed whether retirement would in fact be forced.
Mediated catastrophic injury to a minor involving multiple defendants including a public entity. Issues presented included public entity immunity, SIR satisfaction and priority of recovery, risk transfer (contractual indemnity and additional insured coverage), coverage issues regarding professional services exclusions, and timely reporting under claims made policies.
Mediated personal injury matter arising from a slip and fall on stairs. Plaintiff's injuries largely resolved within weeks of the fall. Plaintiff developed plantar fasciitis and associated this with the claimed injuries. The plantar fasciitis drove general damages because it is a painful condition, the treatments that included steroid injections and platelet injections were painful procedures, and movement restrictions caused by wearing a boot to immobilize her foot were problematic when caring for her young children (including having an infant born after the fall). In addition, plaintiff was an amateur runner whose enjoyment of the sport was greatly diminished by the plantar fasciitis condition. Defense asserted that the Plaintiff's running after the fall contributed to the plantar fasciitis condition and her persistent running throughout treatment periods caused it to recur.
Product Liability
Mediated wrongful death product liability matter. Negotiations were complicated by causation issues and incorporation doctrine defenses.
Early neutral evaluation of product liability matter that resulted in personal injury. Matter required further development before negotiated resolution would be achieved.
Mediation of auto product liability matter in which defendants were manufacturer, original dealer/servicer, and used car dealership. Allegations included failure of part that was replaced in a recall causing sudden acceleration.
Mediated a product liability personal injury action brought against auto manufacturer and airbag manufacturer. Case was focused on airbag's nondeployment.
Mediated consumer class action involving allegedly defective building products. Resolution contemplated injunctive relief and monetary damages.
Auto manufacturer sued for allegedly defective seat. Plaintiff was rendered a paraplegic after the seat back "deformed" or "failed" in a rear collision and Plaintiff was "ramped" backward fracturing Plaintiff's back. Negotiations were complicated by workers compensation lien.
Airbag deployment design issue. Double fatality, solo accident, vehicle left the roadway and ultimately ended with a front-end collision with a hill. A seat-belted driver and front-seat passenger were killed, unbelted two passengers in the backseat survived with minor injuries.
Water loss. Allegedly defective control board in refrigerator resulted in water discharge from cracked water supply line in door. Over 36 hours water flowed throughout the lower floor of the dwelling and flowed into the garage damaging floor coverings, cabinetry, baseboards, and drywall.
Wrongful Death
Wrongful death caused by head-on offset collision when one vehicle in what police described as a "speed contest" for control of a single lane crossed partially into oncoming lane. Driver who crossed over walked away while the people in the other vehicle were dead at the scene. That driver was a high wage earner with a low limits policy and no umbrella. Issues in mediation included bankruptcy options and consequences.
Wrongful death due to a trip and fall on a sidewalk. Issues included property owner vs. public entity liability for changes in sidewalk, trivial defect, dangerous condition on public property, and causation.
Wanted to thank you again for hanging in there with us yesterday. You did a great job balancing the negotiations. If I find myself in need of a mediator again, you will be my first choice. You probably hear this a lot, but I'm going to say it anyway, I hope we never have to work together again. However, if I find myself in need of a mediator, you will be my first choice.
- Client Regarding Complex Investor/Sponsor and Insurance Coverage/Bad Faith Cases
Thanks to Ms. Ehrlich for her Herculean and masterful travails to get this thing settled. She crafted the perfect approach to eradicate all impediments to settlement, something I truly did not believe could happen. Obviously, I'll put her on top of my Best Mediators List.
- Attorney on a Complex Construction Breach of Contract Case
She is responsive and on top of things. Sometimes it feels like herding cats, and it seems like she was able to maneuver that. She was able to deal with challenging people and attorneys, and keep it together. She never quit. Some other mediators move on once a settlement has been reached; she stepped up when this looked like it might fall apart and was able to make sure that everything got signed sealed and delivered, which was above and beyond.
- Attorney on a High-End Custom Home, Construction Defect Case
Ms. Ehrlich was knowledgeable as well as supportive and patient as usual.
- Attorney on a Commercial Real Estate Warranty of Habitability Case
Ms. Ehrlich is an extremely thoughtful and detailed mediator.
- Founder and Managing Partner at an Orange County-Based Law Firm
Rachel really went far above and beyond to ensure that this matter got resolved.
- Attorney on a Business Contractual Fraud Case
Rachel is spectacular. If I told her once I told her 20 times these guys are never going to pay what it takes to get this done. She would call and I would invariably tell her that settlement was an impossibility. I told her It will never happen and I couldn't honestly understand what part of that she didn't get. She was always polite, listened to what I was saying and understood every argument or point I tried to make. This was a very complicated case. I have heard others describe their cases in that fashion but this was in fact a very difficult case involving multiple parties, big egos including mine, several insureds, two insurance companies, 40 or more plaintiffs, multiple law firms and overall a truly difficult case to get under control. She did it. She is one of the best if not the best I have ever seen and I have seen many. Finally she is a pleasure to work with and conveys genuine respect for everyone involved. It doesn't hurt that she is also very bright.
- Attorney on an Insurance Coverage Case
Ms. Ehrlich was extremely prepared for our mediation. I thought she had a good grasp of the issues and handled all parties with respect. I would definitely recommend her in the future.
- Attorney on a Premises Liability Case

Print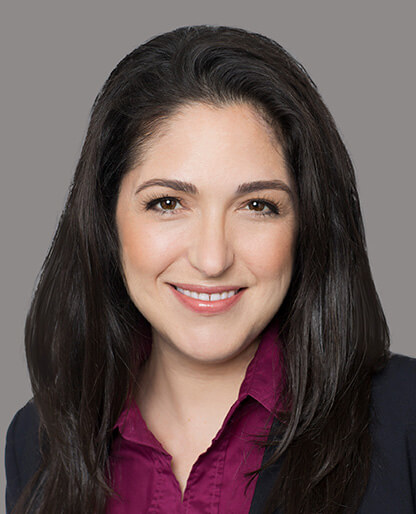 Based in Northern California | Available Nationwide