During his more than 40-year legal career, John Adler was a trial lawyer and legal counselor who represented plaintiffs and defendants, including individual litigants and businesses of all sizes in employment law, class actions/PAGA, contracts, business torts, and personal injury matters. For over 20 years as a first-chair plaintiffs' attorney, John handled a wide range of civil litigation matters, obtaining and collecting multi-million-dollar judgments at trials in state and federal courts. John is among the very few attorneys in California to have first-chaired a wage-and-hour class action jury trial, having successfully defended the very high-profile, ten-week case in the San Diego Superior Court in 2016. He has orally argued numerous cases before state and federal appellate courts for individual litigants and for corporate entities. John has served for more than three decades as a neutral arbitrator with the American Arbitration Association and began work as a mediator more than 20 years ago. He has extensive experience effectively handling a vast range of legal matters including all types of employment disputes, and business litigation including unfair trade practices, breach of contract, and personal injury.

One attorney who recently mediated with John described him as a "been there" mediator and arbitrator who brings his extensive experience, dedication to fairness, untiring determination to help the parties reach a successful resolution, and integrity. Another attorney commented, "John was truly excellent. He is a perfect choice for my clients because he previously chaired many employment law jury trials and can thus assess the merits and risks of a case. He is able to clearly and persuasively communicate that insight to both me and my clients."

According to John, "I rely on counsel for the parties to provide outstanding advocacy tempered with a recognition of the risks of the litigation process, and the importance of providing resolution, both economically and emotionally. I work tirelessly and with great individual focus to deliver exceptional service to the attorneys and their clients."

Practice Areas
All types of Employment including Class Actions & PAGA
Business/Contractual
Personal Injury
Sports Law
Hobbies & Interests
In his spare time, John enjoys playing golf, watching baseball, and cooking.
Website
Legal Career
Full-time Neutral, Judicate West (2019-Present)
Arbitrator, American Arbitration Association, including arbitration of U.S. Olympic Team dispute (1989-Present)
Professor of Law, Adjunct Faculty, University of San Diego School of Law, teaching Employment Litigation and Sports Law focusing on anti-trust, contract, intellectual property, business liability/risk management issues (1988-2008)
Shareholder, Littler Mendelson, P.C. (2004-2019)
Principal, Law Offices of John S. Adler, A.P.C. (1976-2004)
Military Service, California Army National Guard, including as a JAG Officer and Military Judge, 40th Infantry Division, Long Beach, CA (1971-1981)
Associate, Brundage, Williams & Zellmann (1974-1976)
Teacher, NYC Board of Education (1969-1971)
Education & Professional Affiliations
J.D., University of San Diego School of Law (1974)
M A., Education, New York University (1971)
M.A. Political Science, Case Western Reserve University (1969)
B.A. Political Science, Case Western Reserve University (1968)
American Board of Trial Advocates (ABOTA), Member (2001-Present)
Mediation Training, Pepperdine University School of Law, Straus Institute for Dispute Resolution (2017)
Mediation Training, American Arbitration Association courses (1990-Present)
Achievements & Awards
Commendation Ribbon with Pendant, California Army National Guard, for service as Military Judge, Captain JAGC, for conducting 55 trials "while ensuring all individuals were treated fairly and with compassion at all times."
AV/Preeminent rating with Martindale-Hubbell Rating since 1990
Best Lawyers in America (2013-Present)
San Diego Super Lawyers (2015-Present)
Below is a sampling of the various matters John S. Adler, Esq. handled as a practicing attorney or neutral.
Contractual
Mediated breach of contract business dispute between firm and consultant concerning unpaid professional services. Involved issues of potential insolvency of Defendant.
Arbitrated breach of contract claims involving engineering business entities, requiring analysis of managerial and employee conduct over a two-year period. Case involved complex issues involving a non-arbitrable, wage and hour class action then pending in court.
As part of 3-person panel, arbitrated breach of contract, unfair competition, and trade secret claims involving competitors in retail and online recreation industry.
Arbitrated fee dispute between former and current attorney concerning allocation of proceeds of contingency fee recovery.
Arbitrated claims of improper termination of contract between business entities regarding consulting services provided to a communications firm. Case involved issues of non-competition provisions, stock option provisions, and "cause" and "notice" under contractual definitions agreed to by parties.
Arbitrated breach of contract claims brought by consulting company against homeowner's association for money owed under financial management services contract. Case involved interpretation of provisions regarding notice and annual term, and application of California Civil Code provisions.
Mediated and settled contractual and business tort sports law claims involving professional athlete and his former and current agents.
Settled contentious trade secret and breach of contract matter. Fourth time parties formally attempted resolution (one prior mediation and two court-ordered settlement conferences). Stipulated permanent injunction part of settlement.
Successfully mediated a business investment dispute between an investor and entity/principal, including allegations of fraudulent inducement.
Breach of Contract
After two mediation sessions, nine months apart, settled breach of contract, wrongful termination in violation of public policy, and defamation claims by former Executive Director of high-profile non-profit organization. Case involved complex issues concerning contract interpretation, libel and slander, and damages.
Arbitrated claims of constructive discharge, breach of contract, and intentional interference with business relations brought by medical doctor against his practice group following a 17-year professional relationship. Case involved complicated issues regarding calculation of past and present economic damages following extensive testimony by experts.
Arbitrated claims of breach of contract and wrongful termination brought by former Director of Programming and Operations for a radio station, involving issues of program ratings performance and managerial oversight of on-air radio personalities.
Arbitrated breach of contract employment claim involving marketing industry employee claiming unpaid earnings and contractually provided severance pay.
Arbitrated breach of employment contract, retaliation, tortious interference with business relationship, and defamation case brought by medical doctor against Medical Group. Case involved determination of a "fair procedure" issue, the application of the doctrine of "laches," and the nature and extent of discretion of the Board of Directors of a health care organization.
Discrimination
Arbitrated workplace retaliation claims brought under the Uniformed Services Employment and Re-Employment Rights Act (USERRA) and California Military and Veterans Code section 394 brought by a medical doctor following return to civilian service from reserve military unit activation and service in a war zone. Case involved complicated issues concerning staffing, scheduling, and clinic protocols.
Successfully mediated COVID-related wrongful termination, and disability discrimination case involving a high-profile employer, with complex damages issues.
Hostile Environment
Arbitrated claims of constructive discharge, retaliation, and defamation by a health science employee claiming intolerable working conditions in a laboratory associated with actions involving patient informed consent and FDA protocols.
PAGA
Settled PAGA action brought by representative plaintiff claiming Labor Code penalties for meal and rest period violations, including issues relating to "on-call" status and employer's knowledge of employees' non-compliance with company policies.
PAGA wage and hour matter involving both union and non-union employees, in a manufacturing environment. Off-the-clock claims involving leads and non-exempt managers.
Discovery referee services involving ESI data, social media document retrieval and review, and analysis of claims of privilege and privacy.
Successfully mediated PAGA and individual claims in the residential care industry involving allegations of understaffing, document deficiencies, and related matters.
Successfully mediated class action and PAGA matter in wage and hour case involving approximately 700 putative class member/delivery drivers. Case involved issues re joint employment, meal period waivers, and arbitration agreement enforceability.
Pregnancy Discrimination
Settled gender and pregnancy discrimination, and FEHA retaliation case, involving highly compensated Digital Marketing Director. Involved defense issues concerning application of after-acquired evidence of misconduct and claim of resume fraud.
Sexual Harassment
Settled sexual harassment, stalking, and constructive discharge case involving minor, who was employed at a restaurant chain and claimed inappropriate conduct, over a several month period, by immediate supervisor. Defendant claimed Plaintiff misrepresented her age, and that conduct was consensual and non-sexual. Plaintiff claimed damages involving depression, anxiety, and panic attacks.
Settled sexual harassment, gender discrimination, and constructive discharge case involving restaurant employee claiming unwanted and aggressive physical and verbal conduct by co-owner.
Arbitrated sexual harassment, assault and battery, and wrongful termination claims brought by a bartender against her former adult entertainment industry employer and one of its managers. Case involved issues of consent, hostile work environment, and determination of emotional distress and economic damages arising from the conduct.
Mediated harassment, discrimination, and retaliation claims involving a high-earning salesperson and issues of performance, application of company policies, and pretext.
Wage and Hour Class Action
Successfully mediated class and collective age discrimination claims being litigated in federal court against a national restaurant chain. Complex expert witness reports and COVID-19 industry impact issues involved.
Whistleblower Wrongful Term
Settled whistleblower retaliation and wrongful termination in violation of public policy claim, and Labor Code wage and hours claims, involving retail manager's termination following complaints of company failure to accurately pay wages. Involved issues concerning inside sales exemption and calculation of compensable time.
Arbitrated whistleblower retaliation claims brought under federal law by airline employee against his labor union.
Arbitrated claims of wrongful termination and whistleblower retaliation by a nursing educator claiming adverse actions by private institution were driven by the administration's animus towards Claimant due to complaints about staffing and safety.
Mediated and settled wrongful termination/whistleblower claims, and related causes of action. Matter settled on the verge of trial.
Wrongful Term & Discrimination
Settled age discrimination, wrongful termination, and FEHA retaliation claims by 70-year old nursing instructor who claimed adverse actions taken by school following her prevention of improper medication dispensing by student. Plaintiff claimed school put enrollment/financial matters ahead of patient safety.
Settled wrongful termination in violation of public policy claim and disability discrimination claim involving claim of retaliation following employee's report to OSHA concerning matters relating to chemical handling and storage by employer. Employee also claimed violation of Labor Code section 1102.5. Matter also involved claim of employer refusal to accommodate work restrictions following carpal tunnel syndrome surgery.
Arbitrated gender discrimination and wrongful termination in violation of California Health and Safety Code section 6310 claims brought by former Director/V.P. of Research and Development against an international chemical research center. Matter involved extensive testimony from research scientists concerning complex issues about laboratory health and safety, and product failure disclosure requirements.
Successfully mediated COVID-19 termination/retaliation case in health care field involving an additional claim of misclassification.
Wrongful Termination
Settled wage and hour, breach of contract, and retaliatory termination case involving commissions claimed by equipment sales manager who claimed termination was the result of his compensation complaints. Case involved over 70 sales transactions.
Arbitrated wrongful termination, fraud, Labor Code, breach of contract, and California Business and Professions Code section 17200 et seq. claims brought by salesperson against computer software company. Case involved substantial questions regarding accrual and apportionment of commissions, stock option rights, determination of company performance under GAAP, and bonus calculations.
Arbitrated claims of wrongful termination in violation of public policy, retaliation, Labor Code violations, and breach of contract against international company brought by a high-level manager who asserted whistleblower rights following complaints of financial misconduct.
Long-term employee with medical disabilities that arise unpredictably; implicating issues regarding accommodation and job performance expectations
IP Trade Secrets
Chaired 3-person arbitration panel in complex case involving trade secrets and unfair competition claims of employer against former employee, involving allegations of improper accessing and use of employer's data base information. Former employee started own business in competition with Claimant-Employer.
As part of 3-person panel, arbitrated breach of contract, unfair competition, and trade secret claims involving competitors in retail and online recreation industry.
Professional Malpractice Legal
Successfully mediated multi-party, complex legal and accounting malpractice claims involving real estate issues.
Assault and Battery
Arbitrated claims of assault, battery, and false imprisonment against manufacturing company by former employee.
Business Torts
Successfully mediated dispute between homeowners and contractor regarding extensive home improvements, with resolution of complaint and cross-complaint involving allegations of fraud, breach of contract, and unjust enrichment.
PI Auto
Settled auto accident personal injury case involving significant injuries and damages to HVAC technician driving for work. Case involved issues of exacerbation of prior condition, and timing and adequacy of medical care following accident.
Mediated three-car accident/Uninsured Motorist case involving Plaintiff claims against UM driver and insured driver of a third car with issues of Workman Compensation lien reducing UM carrier's policy limits; and settlement with insured third party and division of proceeds; and settlement between plaintiff and UM carrier; and settlement of Workman Compensation claim including waiver of credit against future benefits.
Successfully mediated a multi-party indemnity case involving automobile fire damages with complex issues of causation.
Thank you for your kind words; however, I cannot take any credit. This one belongs to you. I tried for the longest time and it was you who resolved it. Given the lack of evidence I also firmly believe you were able to obtain the best possible settlement for my client. You did a great job and of course, should there be another mediation you would be my first choice.
- Attorney
Thank you for helping us navigate through this insanity. I look forward to working with you again and do indeed, sing your praises!
- Attorney
You dialed in the number as well as anyone could have. I wasn't expecting to accept a proposal, but the number was close enough for my client. Thank you for an efficient mediation. You were great.
- Attorney on an Employment Discrimination Case
John was great and a pleasure to work with.
- Attorney on an Employment Discrimination Case
Great mediator
- Attorney on an Employment Wage & Hour Case
My clients and I were very pleased with John's work on this case. We would definitely continue to use him.
- Attorney on an Employment Discrimination- Retaliation Case
John did a great job with a very difficult plaintiff and handled the matter perfectly. My clients were very happy with his efforts, guidance, and demeanor.
- Attorney on an Employment Discrimination-Retaliation Case
John is a perfect choice for my business clients because he first chaired many employment law jury trials, has both won and lost, and can assess merits and risk.
- Attorney

Print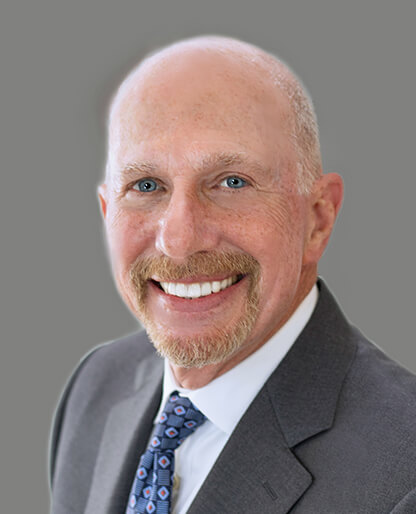 Based in San Diego | Available Nationwide