Following 48 years as a successful civil jury trial lawyer, Gerald pursued a career as a full-time neutral. He mediated more than 150 cases, as well as engaged in countless settlement conferences. He started and managed a voluntary settlement program for the Torrance Superior Court and served as a settlement officer for dozens of litigated cases. Previously, he was the co-founder and partner at a prestigious personal injury firm in Torrance, CA . He obtained well over 100 verdicts, judgments, and awards in every type of personal injury case, including wrongful death, elder abuse, and medical malpractice.

Gerald has received countless accolades, awarded "Trial Lawyer of the Year" by multiple organizations, and has been consistently recognized as a Southern California Super Lawyer. He has also served on the board of many legal organizations and is an ABOTA member.

Gerald brings a wealth of knowledge to Judicate West, and states "I have an ethic for hard work; a need for thorough preparation; a compelling willingness to listen; and patience. These tools, coupled with my extensive legal and life experiences, are the foundation for the successful mediation of the litigated case."

Practice Areas
All types of Personal Injury including Bicycle Accidents and Wrongful Death
Elder Abuse
Medical Malpractice
Product Liability
Hobbies & Interests
Gerald is an avid cyclist and competes at the Masters Level in Velodrome (track) racing and has multiple State, National, and World Championships and National records. He also enjoys mountain biking and backpacking in the Eastern Sierras. Passionate about giving back to the community, he and his former law partner awarded more than 500 scholarships over 30 years to deserving high school seniors entering community college. Most of all, he loves spending time with his family - his wife, seven children, and seven grandchildren.
Legal Career
Full-time Neutral, Judicate West (2023-Present)
Settlement Officer and Pro Bono Arbitrator, Torrance Superior Court; Started and managed a voluntary settlement program (1980s and 1990s)
Co-Founder and Partner, Agnew Brusavich (1984-2023)
Partner, Greene, O'Reilly, Agnew and Broillet (1975-1984)
Attorney, Morgan Wenzel and McNicholas (1974-1975)
Education & Professional Affiliations
J.D., Southwestern University School of Law (1974)
B.S., Woodbury University (1971)
Mediation Course, Strauss Institute for Dispute Resolution at Pepperdine University (2021)
Western Trial Lawyer's Association, Member and Past President (2011-2012)
International Academy of Trial Lawyers, Fellow (1998)
CAALA, Member and Past President (1986)
American Board of Trial Advocates, Diplomate
CAOC, Member
South Bay Bar Association, Member and Past President
American Association for Justice, Member
Achievements & Awards
Best Lawyers in America for 30 years (1993 – Present)
Southern California Plaintiff Trial Lawyer of the Year, Verdictum Juris (1990)
One of California's Most Respective Trial Lawyers, California Lawyer Magazine (1989)
Trial Lawyer of the Year, CAALA (1979)
Southern California Super Lawyers, Super Lawyers, Top 10, Top 100
Alumnus of the Year, Southwestern University School of Law
Below is a sampling of the various matters Gerald Agnew, Esq. handled as a practicing attorney or neutral.
Medical Malpractice
Gerry tried hundreds of medical malpractice cases including, but not limited to elder abuse in the SNF and assisted living setting.
A case regarding brain injuries to a six-month-old from delayed diagnosis of bacterial meningitis.
Numerous labor and delivery, preterm birth, brain injury, and wrongful death cases.
A severe back injury arbitration award in a case involving a small plane crash and negligent repair.
A case due to a failed VBAC and a brain injury. Sanctions were awarded for the alteration of the medical chart.
A case involving a claim of hospital's negligence in monitoring vital signs, resulting in sepsis and loss of limbs.
A case involving a claim of ER's negligence, ignoring pain and gibbus deformity, resulting in incomplete paraplegia.
A case involving a delayed treatment of a kidney stone that lead to sepsis and death.
A case in which a mother of two died from untreated hyperthyroid resulting in thyrotoxicosis.
A case involving a baby that had in-utero hydronephrosis. There was a several-day delay in treatment after delivery.
Several wrongful death elder abuse cases with issues involving feeding tubes, elopement, chemical restraint, physical abuse, and neglect.
General Negligence
A case involving a minor with head trauma, brain bleeds, and surgery and an elementary school in which complaints of a nine-year-old were ignored and there was proof of a coverup.
A case in which an unidentified male jumped off a stage at an indoor concert venue adding on a fan and causing a broken neck and tear of the vertebral artery. The claim was for negligent security.
A case in which a driver of a vehicle was killed when a truck wheel and tire separated from an oncoming pick-up truck and struck her in the head. Negligent installation was claimed during the tire rotation. Metallurgy proved that several lug nuts were not tightened.
PI Auto
Gerry tried hundreds of vehicle cases including automobiles, motorcycles, big rigs, and pedestrians. He tried and resolved more than 200 bicycle cases, many of which involved catastrophic personal injury and wrongful death.
A big rig vs. auto vs. motorcycle case involving several facial injuries with unique habit and reconstruction evidence admitted.
A case in which a cyclist sustained a TBI and a broken neck when rear-ended in a bicycle lane by a motorist changing the radio station.
A case in which a passenger side mirror struck a lead cyclist in a pace line. Four cyclists crashed with multiple serious personal injuries; Alleged 3-foot rule was violated.
A case in which an elderly driver making an unlawful turn into a driveway crashed into four cyclists; Multiple orthopedic injuries sustained.
A case in which an elderly cyclist was hit by a driver looking for a parking spot in a preschool. A femur fracture was sustained resulting in a 2-inch leg shortening.
A case in which a hit-and-run pick-up truck killed an elderly cyclist. An investigation identified the driver who was uninsured.
A case in which a motorcyclist was struck by a rideshare vehicle. Injuries sustained included a broken hip and multiple pelvic fractures.
Premises Liability
A case in which a warehouse worker sustained a leg injury caused by a forklift driver, and evidence that the security video was altered.
A case involving scalding injuries from a shower in a Colorado motel that included claims of scarring and exacerbation of Parkinson's disease.
Product Liability
Gerry tried numerous product liability cases including auto, aircraft, industrial and factory machinery and equipment, and consumer products.
A case in which a construction worker was killed by a defective forklift assembly.
A case involving facial injuries and loss of an eye from a defective airbag.
A case involving burns to a welder caused by a defective quick-start canister.
A case involving carbon monoxide poisoning, fear of a fetal injury, and elective abortion.
Gerald Agnew has been great to work with. He learns the details of the file, works with both sides on the strengths and weaknesses of their case and spends as much time as needed to work to resolve the case. He makes the extra effort to follow up with the parties to see what he can do to get the parties closer to settlement when unable to reach a settlement during mediation.
- Senior Claims Representative at a Multi-National Retail Corporation
Gerry's decades of experience handling high-exposure cases and his patient and professional demeanor have made him one of the best mediators I have had the pleasure of working with. He consistently demonstrates a genuine interest in his cases and offers intelligent, creative suggestions of ways to compromise a disputed claim. Simply one of the best.
- Founding Member of a Top Insurance and Professional Liability Defense Firm
Not only is Gerry Agnew a hugely experienced trial lawyer, but my recent experience with him as a mediator in a difficult medical malpractice case has convinced me that he is an excellent mediator. He used his understanding of the process to move everyone toward a fair settlement. He came to the mediation with a clear understanding of medicine and the issues. He was able to get everyone focused on the value and exposure of the case. I strongly recommend him.
- ABOTA Diplomate and Top-Rated Plaintiff's Personal Injury Attorney

Print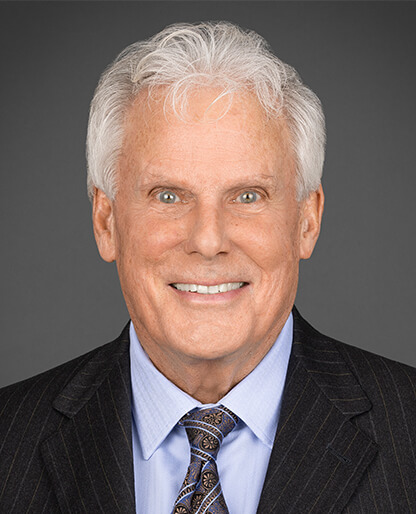 Based in Orange County | Available in All of California