Judge Aguirre has served the legal community as an attorney and judge with passion, pride, and dignity for over 46 years. In 2017, after 15 years on the bench, he retired from the Orange County Superior Court where he presided over civil trials, law and motion, and settlements regarding government liability, business, personal injury, and medical malpractice cases. He also sat in the Family Law department for 4 years. Before he was a judge he founded a 92-unit assisted living retirement community and for 17 years managed the facility. In his 28 years of private practice, he dealt with personal injury, real estate, employment, construction, licensing, and insurance issues. This experience gives him an "in the trenches" view of what all parties go through in a dispute.

Fluent in both English in Spanish, he possesses strong communication skills and a comprehensive perspective to his role as a neutral, serving as a mediator and arbitrator in personal injury, real estate, medical malpractice, elder abuse, and business/contractual matters. One attorney who worked with him on a real property mediation said, "Judge Aguirre was perfect for this case. He cut through to the core issues and then managed difficult personalities exceedingly well. He is charming, humble, gracious, and smart.."
Practice Areas
Business/Contractual
Employment
Family Law
Government Liability
Medical Negligence
Personal Injury
Real Estate
Wrongful Death
Hobbies & Interests
In his spare time, Judge Aguirre enjoys spending time with his family, playing handball and piano, and is currently writing a book on WWII Latino Veterans at Pearl Harbor, December 7, 1941.
Legal Career
Neutral, Judicate West (2017-Present)
Judge, Superior Court, Orange County (2002-17); Unlimited Civil Trials (2013-17); Limited Civil Trials (2010-12); Juvenile Trials (2008-10); Family Law Trials (2004-08); Criminal Trials (2002-04)
Founding Member & Managing General Partner, Bradford Square Retirement Community (1985-02)
Sole Practitioner, Criminal Defense, Plaintiff's Personal Injury, and Real Estate Development (1976-02)
Attorney, Cohen, Stokke, Owen & Davis, practicing Family Law (1974-76)
Legal Aid Society of Santa Clara County (1974)
Education & Professional Affiliations
J.D., University of California Los Angeles (1971)
B. A., University of Southern California (1968)
Mediation Training (Dissolution), Pepperdine University School of Law/Straus Institute for Dispute Resolution (2005)
Mediation Training, California Judges Association (2004)
Achievements & Awards
Navy League of the United States, Orange County Council, Member, Board of Directors (2010-2020); Judge Advocate (2012-2020)
California Latino Judges Association, Member (2002-Present); Vice President (2010-12)
George Baily Award, Family Law Section, Orange County Bar Association (2008)
Orange County Superior Court Leadership Academy, Founder (2007); Co-Chair (2007-2017)
Orange County Superior Court Grand Jury Committee, Member (2006-2017)
Named by Latino Leaders Magazine as one of the "101 Most Influential Latinos in USA" (2014)
Judge of the Year, Hispanic Bar Association of Orange County (2003)
Support of Youth Award, California LULAC Education Foundation (2002)
Co-Founder, Latino Advocates for Education, Inc., President (1996); Member (1996-Present)
Alzheimer's Association of Orange County; Board of Directors (1985-87); Member (1985-Present)
Orange County Trial Lawyers Association, Board of Directors (1980-82); Member (1980-Present)
Hispanic Bar Association of Orange County, Co-Founder (1974); President (1976)
Below is a sampling of the various matters Hon. Frederick P. Aguirre, Ret. presided over on the bench, tried as an attorney, or handled as a neutral.
Banking/Finance
Homeowner secured loan modification, then filed Bankruptcy due to another creditor's foreclosure proceedings. Bank insisted that Homeowner secure Bankruptcy court approval for the loan modification. Bank refused to accept monthly payments and began foreclosure. Homeowner filed suit and Bank lost MSJ on their position. Case settled in mediation.
Contractual
This is a binding arbitration regarding a dispute over the disposition of attorneys fees earned in a personal injury case that settled for a six-figure amount. Petitioner represented the Plaintiff for 24 months and negotiated a defense offer of settlement which was rejected by the Plaintiff who then discharged Petitioner and retained the Respondent who settled the matter after 16 months of pre-trial litigation. Petitioner alleged that he was entitled to his contingency fee of the proposed settlement amount. Respondent argued that Petitioner was only entitled to a reasonable fee.
Petitioner law firm claimed that Respondent law firm owed it over a low six-figure amount in agreed upon attorneys fees based on a breach of a written agreement. Petitioner claimed that it referred several cases to Respondent in a national products liability action with scores of claimants that resulted in a multi-million dollar settlement. Petitioner demanded punitive damages based on fraud. I ruled on several motions for discovery, a motion for summary judgment, a motion for judgment on the pleadings and a motion to strike.
Business dispute over sale of business with an option to buy back under certain conditions. Differences arose between the parties causing one to exercise their right to purchase the outstanding shares of the corporation.
Fraud/Misrepresentation
Plaintiff, an attorney, claimed that Defendant, a mortgage broker company, offered him a 15 year home mortgage refinance loan at a locked interest rate of 2.750, but then moved it up to 3.5% improperly. Plaintiff secured another loan at 3.6% interest rate. Plaintiff claimed fraud plus intentional and negligent misrepresentation. Defendants had successfully demurred to Plaintiff's breach of written and implied contract causes of action and the court had stricken Plaintiff's claims for punitive damages and attorneys fees. The matter settled.
Construction Breach Of Contract
Defendant contracted with Plaintiff, a licensed general contractor, to remodel a 50-year-old building for a dental services office. The written agreement called for the job to be completed in 15 weeks, but it took 11 months. Plaintiff was paid 70% of the agreed upon price. The City conducted final inspection and Defendant moved into the offices. Defendant claimed costs for the delay, repair work and attorneys fees. The parties finally agreed to settle the matter in mediation with mutual releases of all claims against each other.
Wrongful Termination
Plaintiff, a big-rig truck driver, was terminated after 14 years for refusing to obey an order to pick up products at the 12th hour of his 14-hour shift. He claimed whistle-blower status and wrongful termination.
Medical Malpractice
Newborn baby was prematurely delivered at 32 weeks by C-section, but in transporting the baby from the birthing hospital to the Neo-natal care hospital, the gurney carrying the child was accidentally tipped by EMTs and the baby sustained a left parietal skull fracture, with no obvious bleed. The MRI showed PVL damage to the brain matter resulting in developmental delays for the child. The Defense retained Pediatric Neurologist reported that the fall did not contribute to or cause the delayed development. The child's devolvement delays appear to be slight and can be addressed through speech therapy and fine motor skill therapy. Case settled in mediation.
Plaintiff visited Defendants' medical clinic complaining of pain in his knees and back and also complaining of other issues. The Physician Assistant prescribed oxycodone and norco, but did not conduct a rectal digital examination or order any prostate cancer screening tests. After years of treating and additional medications, a PSA blood test detected cancer. Plaintiff contended that had the prostate cancer been diagnosed earlier that there would be no recurrence and he would have a normal life expectancy.
Claimant, a female in her sixties with severe obesity, diabetes, hypertension, atherosclerosis aorta and 3 prior abdominal surgeries, underwent a laparoscopic cholecystectomy conducted by Respondents. 5 days post surgery she experienced peritonitis due to a delayed onset perforation of her small bowel. Claimant maintained that Respondents breached the standard of care and now she must wear a pouch over her stoma and Claimant refuses to undergo a reversal of the ileostomy. Small bowel injuries are a known risk of such surgical procedures and an even higher risk with Claimant's co-morbidities, that the Respondent surgeon properly performed the surgical procedure and appropriately inspected the surgical area and that the Respondents did not breach the standard of care.
General Negligence
Plaintiff, a retired police officer, suffered severe dog bite wounds to his left arm, left hand, and right hand which required two surgeries. Nerve damage to the left hand continues and a loss of earnings claim was made. Defendant claimed that his two dogs were enclosed by a 6-foot fence with no holes.
Plaintiffs, a 71-year-old lady and her 9-year-old grandson were bit by a pit bull dog as they walked from her rental unit through the backyard of the Defendant homeowner. Both have large scars on their abdomens, groin areas, and thighs.
Plaintiff, a retired police officer, suffered serious dog bite wounds to his left arm, left hand and right hand. He had two surgeries. Nerve damage to non-major left hand continues with no future medical treatment. Plaintiff claimed that there were holes in the fence through which the dogs poked their heads through, bit him as he passed by the home. Matter settled during post-mediation communicaton.
Personal Injury
Plaintiff, a woman in her seventies, slipped and fell at Defendant's supermarket. She suffered a fracture of the left knee cap and it also caused a flare up of her Diabetes that, according to her, was under control before the incident. Video tape of the store shows an employee sweeping the subject area 40 minutes then 2 minutes before the slip and fall. No evidence of debris can be seen in the video footage. However, photos taken by the Plaintiff's son-in -law, who witnessed the incident, appeared to show a fruit-like substance on the floor where Plaintiff slipped and fell. Plaintiff incurred over $70,000 in medical specials, no loss of earnings with a good prognosis. The matter settled in mediation.
Plaintiff, a 32 year old employee of an air conditioning contractor, fell through a skylight on the roof of a commercial building owned by the Defendant. He suffered serious head and internal organ injuries and fractures as he fell 15 feet to the concrete floor. Plaintiff would have to deal with substantial comparative negligence as the skylight was open and in plain view, he had mapped out the roof prior to beginning work on the air conditioner, he had chaired a meeting with his fellow workers and reviewed the map he had prepared. The parties settled at mediation.
PI Auto
3 minors and 1 adult were rear-ended. The adult suffered major injuries - disc protrusion at L4/5 and cervical strain necessitating epidural injections with bills close to 6 figures. Minors were treated for soft tissue injuries. Case settled in mediation.
40-year-old mother of 4 children, with no prior history of neck, arm or back pain, was rear-ended. Her automobile received minor damages. She did not receive medical treatment for 5 days, then complained primarily of neck and radiating arm pain. MRI three months later revealed 2-3 mm disc protrusion at C3-C4 and 3 mm disc protrusion at L4-L5. Plaintiff's orthopedic surgeon recommended 3 epidural injections. No loss of earnings claimed as plaintiff cared full time for her 11-year-old, severely autistic son and 2 other minor children. Plaintiff demanded the policy limit. Both parties requested a Mediator's Proposal.
Plaintiffs were rear-ended by Defendants. Defendants admitted fault but disputed reasonableness of medical treatment. One of the plaintiff's last received medical treatment in summer of 2016 and was not suffering further pain. The second plaintiff recently suffered pain and a new MRI revealed a significant disc bulge at L5-S1 and she was receiving physical therapy.
This was an admitted liability automobile accident case where Plaintiff's SUV was caused to flip over two times on the freeway causing serious injuries to the 51-year-old female Plaintiff. Medical specials (paid bills) were in excess of a high five-figure amount, with questionable future medical treatment. Plaintiff demanded the multi-million dollar policy.
Plaintiff, drove into a fast food establishment's parking lot and parked her car. She got out of her car and failed to look to her left before entering the pathway of cars. Defendant driver looked down and failed to see Plaintiff walking into her pathway and struck Plaintiff. Plaintiff sustained a lateral tibial plateau fracture of her left knee and immediately underwent orthopedic surgery. Plaintiff alleged that the premises owners failed to alert drivers that pedestrians would be crossing the three lanes of traffic. Matter settled in mediation.
Defendant admitted liability in this unsafe left turn case causing accident which resulted in Plaintiff's open right tibia and fibula fracture. Plaintiff recovered reasonably well and has minor permanent disability.
Claimant was involved in a minor collision with an uninsured motorist, had pre-existing medical conditions and was covered by UM insurance policy issued by Respondent. There was no wage loss as Claimant was disabled from working. Claimant did not request future medical expenses.
Plaintiff's full time care, was rear-ended by Defendant. Both cars sustained major damage and were towed from the scene. Plaintiff suffered soft tissue cervical and upper back injuries and secured reasonable medical treatment in the first three months. Plaintiff had pre-existing degenerative low back issues that were aggravated by the impact.
Claimants, a 54-year-old female and her 13-year-old daughter were involved in an automobile accident with an uninsured driver. Respondent, claimant's UM insurance carrier, denied liability and denied the extent of the personal injuries, if any.
Plaintiff, who never had any prior neck or low back injuries, was injured in a head on collision causing him chest pain, neck pain and headaches. Liability was not disputed by the Respondent, however, Plaintiff's insurance carrier challenged the extent of his injuries and the reasonableness of his medical treatment.
Policy Distribution
The husband of a young mother who died in an automobile accident caused by the negligence of a driver left behind her young minor children; needed assistance in recommending to the Probate Court a fair and equitable distribution of the insurance policy funds to the heirs and attorney fees.
Premises Liability
A woman in her late forties slipped and fell in a big-box store sustaining injuries to her back which resulted in a 3 mm disc protrusion at L4-L5. She claimed she slipped on "bird poop" on the floor. Notice was questionable. A store employee had stated to the Plaintiff that the store knew about a bird problem before, but the employee was referring to a bird nest that had been removed several months before not about the lone bird that left the bird poop a few moments before she slipped.
Plaintiff, a 58-year-old female, tripped on a parked forklift in the aisle of a big box store. She fell and sustained right arm abrasion, right knee abrasion and complained of headaches and low back pain. No loss of consciousness and no fractures. Total medical specials was paid by Plaintiff's insurance. No loss of earnings and no future medical treatment documented.
Plaintiff, a 49-year-old mother of 4 children, was struck in the head by a falling large tree branch. The branch also hit the roof of Plaintiff's mini van and crushed in the roof several inches. Plaintiff's expert alleged that Defendant HOA failed to properly trim and maintain the 30 - 40 foot tall Eucalyptus tree. Plaintiff was diagnosed with a traumatic brain injury and soft tissue injuries to her neck and back. The parties agreed to settle at mediation.
Plaintiff, in her 60s, was shopping in Defendant's hardware store and suffered a non-displaced fracture of the left great toe and a non-displaced fracture of the left 5th metatarsal neck when an unsecured large cylinder of plastic flags of approximately 40 pounds in weight fell off the shelf and struck her left foot. She was hospitalized, received several months of chiropractic treatment, underwent numerous consultations with several medical providers, and sustained 5 lumbar epidural steroid injections. She was a diabetic, and had prior complaints of low back and neck pain and neuropathy. There was no loss of income.
Judge Aguirre was very effective in settling a very difficult case. Judge was all out in making sure this matter was handled with care and with utmost professionalism. Judge Aguirre did his best to conclude this case. Thank you.
- Attorney on an Employment Sexual Harassment Case
The Hon. Judge Aguirre came highly recommended from several of my colleagues, and I must say, I was not disappointed. Prior to our formal mediation, Judge Aguirre provided the office with his email and phone out of expediency. Not only was he prompt to respond but also relatively easy to get in contact with. During the mediation, Judge Aguirre expressed his professionalism as well as his impartiality intimately resulting in the successful resolution of the matter. I STRONGLY recommend Judge Aguirre for future mediations and greatly appreciate his efforts at Judicate West.
- Attorney on a General Negligence Case
Judge Aguirre gave us his honest opinion regarding his valuation of the case which helped Plaintiff make her decision to settle the case.
- Attorney on an Elder Abuse/Medical Malpractice Case
He knows how to get cases resolved.
- Attorney on an Employment Sexual Harassment Case
Judge Aguirre was meticulous, very fair, and neutral. He is amiable and instructive, an effective mediator.
- Attorney on a Premises Liability Case
Judge Aguirre did a great job. He did not give up on the process and was creative in his ideas for a resolution.
- Partner at a Firm Based in Fresno
Judge Aguirre was perfect for this case. He cut through to the core issues and then managed difficult personalities exceedingly well. He is charming, humble, gracious, and smart. I can't wait to engage him again.
- Attorney on a RealProperty/Landlord Tenant Case
Judge Aguirre was exceptional. Very, very sklled. I had not used him previously, but had heard great things about him from my colleagues. I would definitely use him again, and soon.
- Attorney on an Elder Abuse Case

Print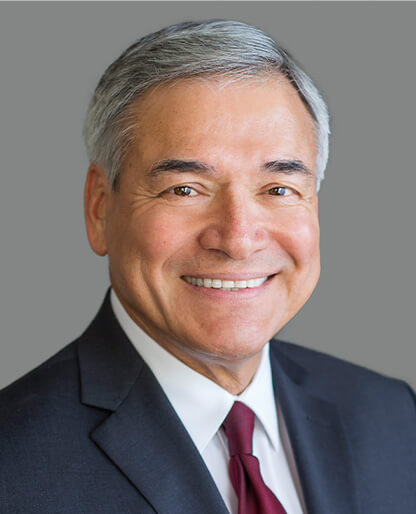 Based in Orange County | Available in All of California