Following nearly 14 years of distinguished service on the bench for the U.S. District Court for the Central District of California, Southern Division, Honorable Andrew Guilford has retired and is available to serve as a mediator, arbitrator, and private judge, including special master assignments, and case evaluator.

During his judicial tenure, Judge Guilford sat by designation on the United States Court of Appeals for the Ninth Circuit and is one of only two Central District Judges to have been invited to sit at the United States Court of Appeals for the Federal Circuit. He served as one of the few Patent Pilot Program judges in the Central District. As a federal judge, Guilford heard over a hundred trials, sometimes sitting without a jury, on matters including patent, trademark, copyright, defective products, securities, employment, civil rights, professional liability, class actions, MDL, and of course, criminal matters.

Before his appointment in 2006, Judge Guilford served as an arbitrator and Judge Pro Tem for the Orange County Superior Court, leveraging the experience he gained as a trial lawyer for more than 31 years. At Sheppard, Mullin, Richter & Hampton for his entire career as a lawyer, he tried complex commercial cases across a variety of industries, such as major league sports, medical devices, banking and finance, real property, telecommunications, and entertainment. At a young age, he was elected to the American College of Trial Lawyers.

Judge Guilford's love for the community and passion for giving back is evidenced in his more than four decades and countless hours lecturing and authoring for law schools, religious entities, legal publications, bar associations, and judicial organizations both nationally and internationally. As a trial lawyer and judge, he has received many prestigious awards from various bar associations, including the Orange County Bar Association's Franklin G. West Award—the organization's highest honor, presented to outstanding attorneys and judges whose lifetime achievements have advanced justice and law.

Judge Guilford has earned a reputation for his compassionate, intellectual, fair, intuitive, and hardworking demeanor, all qualities he brings to the private sector. One attorney commented: "Judge Guilford always has been prepared, committed and well respected. Following many years of private practice on complex matters and on the bench, he treated lawyers with respect and gave them the opportunity to represent their clients, while achieving justice. He was always actively engaged and personable, and he operated with supreme verve. These attributes certainly will make him highly in demand, as both a private judge and a mediator, and rightly so."

Practice Areas
Business/Contractual
Civil Rights
Class Actions
Employment
Finance/Securities
Multidistrict Litigation
Patents
Professional Liability
Real Estate
Trademark/Copyright
Hobbies & Interests
Judge Guilford's interests are varied and include traveling, writing, poetry, photography, theater, and sports, being a fan of UCLA, the Dodgers, Lakers, and Rams, and playing basketball and tennis. Time with his family is most valued, and he is proud of his grandson and two granddaughters.
Legal Career
Neutral, Judicate West (2020-Present); Co-Chair of the Federal Practice Group (2023-Present)
United States District Judge, Central District of California, Southern Division (2006-2020)
Partner & former Associate, Sheppard, Mullin, Richter & Hampton handling complex commercial litigation with an emphasis on patents, trademarks, finance including securities, banking, real estate, contracts, unfair competition, defamation, civil rights, partnerships, professional liability and class actions (1975-2006)
Education & Professional Affiliations
J.D. University of California, Los Angeles; Editor for the UCLA Law Review (1975)
A.B. University of California, Los Angeles, summa cum laude, Regent Scholar, Phi Beta Kappa (1972)
University of California, Irvine, School of Law, Dean's Advisory Council (Present)
Chapman University School of Law, Board of Visitors (Present)
Federal Bar Association, Board of Directors (2001-2020)
9th Circuit Jury Instructions Committee (2018-2020)
Judicial Conference Committee on Codes of Conduct (2011-2017)
Howard T. Markey Intellectual Property American Inn of Court, President & Co-Founder (2013-2015)
State Bar Commission on Access to Justice (2008-2013)
UC Irvine School of Law, Adjunct Professor (2013)
Public Law Center, President (2004-2006)
California Supreme Court Advisory Task Force on Multijurisdictional Practice (2001-2003)
Association of Business Trial Lawyers (ABTL) of Orange County, President & Co-Founder (2000-2001)
District Judges Association, President (2017-2019)
State Bar of California, President (1999-2000)
American College of Trial Lawyers, Fellow (1992)
Orange County Bar Association, President (OCBA) (1991)
Orange County Bar Association Delegation to the Conference of Delegate, Chair
Orange County Bar Association Business Litigation Section,Chair
Achievements & Awards
Speaker, International Symposium on Judicial Enforcement of Intellectual Property, Beijing, China (January 2020)
Speaker, Best Practices in IP Litigation, Berkeley – Tsinghua Transnational IP Litigation Conference, Berkeley, CA (October 2019)
Speaker, Best Practices in Patent Litigation, The Sedona Conference, Philadelphia, PA (March 2019)
Recipient, Professionalism Award, American Inns of Court (2018)
Recipient, Distinguished Public Service Award, Los Angeles Intellectual Property Law Association (LAIPLA) (2016)
Recipient, Judicial Excellence Award, Orange County Asian American Bar Association (2014)
Named 5 times by the Daily Journal, "California's Top 100 Attorneys"
Selected as a "Southern California Super Lawyer (2004-2006)
Selected as one of 50 "Best Lawyers in Orange County"
Selected as one of "Best Lawyers in America"
Recipient, Franklin G. West Award, Orange County Bar Association (2003)
Recipient, Jurisprudence Award, Anti-Defamation League (2002)
Recipient, Distinguished Judge Award, Orange County Intellectual Property Law Association
Recipient, Judge Alicemarie H. Stotler Award, Orange County Federal Bar Association
Recipient, Judge of the Year Award, Orange County Hispanic Bar Association
Recipient, J. Reuben Clark Award, J. Reuben Clark Society
Recipient, Bernard E. Witkin Amicus Curiae Award, Judicial Council
Named Business Litigation Trial Lawyer of the Year, Orange County Trial Lawyers Association
Honored by UCI School of Law as a "True Founder of the School of Law"
Contributing Editor, Civil Procedure, The Rutter Group
Judge Guilford has written articles appearing in many places, including the UCLA Law Review, the Pennsylvania Law Review, the FIU Law Review, the Daily Journal, the California Bar Journal, and the Journal of the Litigation Section.
A popular speaker, he has been asked to speak on many topics in many places from China to New York. His long list of hundreds of programs goes back to a 1978 CEB program on Civil Litigation, followed by a 1982 program on the leverage of negations, and a 1984 CEB program on negotiating civil settlements.
Below is a sampling of the various matters Hon. Andrew J. Guilford, Ret. presided over on the bench, tried as an attorney, or handled as a neutral.
A.D.A.
Mediated ADA/Unruh Act case wherein the plaintiff was denied use of his mobility device in a big-box store.
Mediated a case arising from COVID complications and a breached commercial lease agreement. COVID-related legal issues were involved as well as research on very recent case law.
Complex Commercial
Mediated a multi-faceted business dispute arising from an underlying claim for breach of contract and wrongful termination by a former manager in four commercial real estate LLCs. There was also an alleged professional malpractice claim.
Consumer Class Action
Mediated a nationwide TCPA class action alleging that the defendant placed prerecorded voice robocalls to consumer cell phones soliciting its lending services without prior express written consent.
Mediated an auto defect class action alleging that the infotainment systems in Defendant's vehicles are defective. Infotainment systems are supposed to facilitate the use of various technological components while driving. The infotainment systems repeatedly freeze, are prone to error messages, and constantly reset.
Mediated consumer class action involving alleged deceptive delivery fee disclosures during/related to the pandemic from a prominent restaurant group.
Served as Special Master reviewing approval of a major TCPA class action. A complicated statutory interpretation was involved. Class action rules were applied. (Federal Matter)
Contractual
Mediated dispute involving the purchase of a famous and historic house. Dispute involved failure to disclose serious issues regarding the property.
Mediated major fraudulent conveyance issues. Plaintiff is a receiver appointed in aid of collecting a judgment and is prosecuting two substantially similar fraudulent transfer lawsuits-one in her capacity as receiver and the other in her capacity as assignee to approximately two dozen defendants, ranging from lenders to real estate developers, alleging that Defendants all took part in a fraudulent scheme to prevent from collecting on its judgment.
Mediated claims against a departing employee pertaining to a non-compete clause.
Settled this complicated family dispute involving numerous factors, involving high-profile individuals, and issues extending over decades. Probate and breach of contract claims.
Mediated settlement of a dispute involving the termination of a commercial lease of a large movie theatre chain, breach of contract, and construction obligations. COVID issues were involved.
Fraud/Misrepresentation
Mediated disputed concerning a sale. Plaintiff's claims against defendants for breach of warranty and rescission based on a mistake. Plaintiff purchased a painting from the defendants which was thought to have been painted by a renowned French Impressionist. Art experts informed plaintiff that the painting was not painted by said French Impressionist, and the value of the painting was greatly diminished. Issues included valuation and authentication.
Cannabis Industry
Mediated extensive lease dispute arising from three leases entered into by Claimant-Landlord and Respondent-Tenant for their use and occupancy of commercial property as an indoor cannabis cultivation facility. Claimant has asserted various breach of contract and tort-based claims.
Disability
Mediated a case involving an employment termination. Plaintiff alleged it was due to discrimination based on disability. Workers' Compensation issues were also involved.
Wage and Hour Class Action
Mediated Class Action in Wage and Hour case involving claims of failure to pay proper wages for all compensable work time including overtime, failure to provide timely and uninterrupted meal and rest periods, and failure to pay proper total hourly rate required.
Breach of Contract
A Stock Purchase Agreement (SPA) and dispute over a low 7-figure escrow account on the sale of a business.
Mediated case concerning questionable shipment of illegal materials out of the country. The Plaintiff suffered financial and criminal hardship as a result.
Arbitrated matter involving damage allocations involving an injury and accident involving a fishing boat and yacht. Numerous claimants and admiralty issues were involved.
Mediated financial class action involving a real estate program and the banking institution where the accounts were maintained. 9-figure damages.
Mediated a contract dispute involving long-term maintenance services of gas turbine generators and supply of spare parts for a refinery in another country.
Class Actions
Served as Special Master reviewing approval of a major TCPA class action. A complicated statutory interpretation was involved. Class action rules were applied.
Nationwide consumer class action under various false advertising statutes alleging mislabeling of several beverage products as containing no artificial ingredients, when the product allegedly contains artificial DL malic acid.
Significant class action on bank finance policies surrounding auto financing. Plaintiff claims the amount involved is in the high 9 figures. There were numerous details and calculations to be handled and various statutes were involved.
Mediated TCPA Class Action involving real estate brokers who purchased leads and called using autodialers.
Mediated claim for false labeling against a nationwide food and beverage company. "All natural" is involved. Class and individual settlements were represented.
Complex Civil Matters
This challenging Section 1983 case involving a police shooting, Plaintiff is a paraplegic as a result of the shooting.
Mediated claims of malicious prosecution. Numerous cases were involved. State and Federal law were implicated.
Mediated case arising from COVID complications and COVID-related legal issues were involved. Breach of contract dispute between a mattress support system company and a large hospotality chain. Research involved very recent case law.
Mediated police misconduct case wherein Plaintiffs were mistakenly detained. Federal and state law was reviewed. Multiple plaintiffs and officers were involved.
Mediated a Section 1983 case. The case involved a fatal shooting by law enforcement officers. The case is pending in the Central District of California.
Mediated a Section 1983 case involving a fatal shooting by police. Many plaintiffs are involved in this case with significant press coverage.
Copyright Matters
Mediated a dispute involving claims of copyright infringement pertaining to proprietary forms a competitor used after hiring an employee who departed from Plaintiff's company. Multiple sessions required for the parties to reach settlement.
Employment Issues
Mediated a California wage and hour class action involving the airline industry.
Govt. Admin and Agency
Mediated dispute over COVID threat in prisons and precautions that were being taken to protect individuals.
Insurance Coverage
Resolved a multi-party dispute over a fire caused by an electric massage chair that malfunctioned.
Patent Issues
Mediated extensive patent dispute involving competitors in the global television market.
Mediated patent dispute involving baby products.
Mediated design patent dispute involving nail products and multiple claims of patent infringement.
Served as Special Master in a patent case. The assignment involved extensive issues, ranging from pleadings and discovery to claim construction. The technology includes document control patents. Handled many issues of the case. Orders included a 101 dismissal motion and claim construction. Assignments include 12(b)(6) motions and scheduling. Issues included Alice 101 motions.
Mediated a design patent infringement case. Issues included infringement, invalidity, and damages. Global participants were involved in mediation.
Mediated design patent case. The case involved Chinese manufacturers. The case is pending in the Central District of California.
Mediated a case involving conflicting patents in the paper industry. It is pending in the Central District of California.
Trade Secret Matters
Successfully mediated a trade secrets case with a departing contractor. Plaintiffs alleged that Defendant's consulting firm utilized trade secrets to create a company that directly competes with Plaintiff company. This was a multi-faceted matter with important injunctive relief.
Trademark Issues
Mediated dispute regarding eye surgery technology. Defendant specialized in commercializing medical device innovations and created a competing company.
Mediated trademark case in the bakery industry involving a longstanding and globally sold baked good.
Bad Faith
Mediated a federal action for ERISA rights. Long-term disability claim, ERISA status disputed, as well as disputed underlying disability.
Subrogation
Arbitrated Insurance Subrogation case that arose out of jewelry theft.
IP Copyright
Mediated a complicated copywriting case regarding music that continued to generate millions in revenue and disputes between various heirs.
IP Patent
After serving as a member of the Central District of California's Patent Pilot Program during his time on the bench, Judge Guilford is now a sought-after mediator of patent and other intellectual property matters. See Judge Guilford's "Federal" representative cases for just a few examples.
IP Trademark
Mediated trademark case involving competing restaurants, who served similar goods and services and also have similar trade dress, in relatively close proximity to one another. The matter raised interesting trademark issues.
Professional Malpractice Legal
Mediated a legal malpractice case. The attorneys were retained to facilitate the transfer of a business sale and a conflict was asserted.
Buy/Sell
Mediated dispute over a home purchase wherein property was subject to ongoing disputes with adjacent neighbors, which was disclosed.
Eminent Domain
Mediated large real estate eminent domain dispute with the government.
Home Owners Association
Referred a contentious deposition for a homeowners association dispute.
PI Auto
This is an auto vs. motorcycle case. Plaintiff, an electrician in his early thirties, suffered second- and third-degree burns. This dispute included a loss of consortium claim.
Mediated case about serious car/pedestrian accident.
PI Sexual Assault
Mediated an employment sexual assault matter. Plaintiff was a project manager for the Defendant CEO.
Judge Guilford has a high level of knowledge and skill.
- Attorney on a Consumer Class Action Case
Judge Guilford had a long and distinguished career as a trial lawyer and continued to distinguish himself during his years on the bench. He has been a pillar of the legal community in Southern California for several decades and will continue to distinguish himself as a mediator and arbitrator at Judicate West.
- Attorney in Los Angeles
Judicate West is quite fortunate to have Judge Guilford join its team. He is the cream of the crop – one of the best minds around and impeccably fair and thoughtful. The judiciary's loss is Judicate West's gain.
- Attorney in Los Angeles
Judge Guilford has an excellent demeanor for mediations. He quickly got up to speed on the issues and was effective in sorting out the roadblocks to settlement. Although the case did not settle, I would recommend him to colleagues for complicated business litigation and IP matters.
- Attorney on an IP Trademark Case
Judge Guilford was a fabulous mediator. Very patient, even-keeled, and knowledgeable about the "push- button" issues of the case. We would utilize Judicate West's services again.
- Attorney on a Real Property Case
The mediator worked diligently and efforted to give us a resolution that did finally occur. He did see the issues between the parties that needed to be overcome.
- Intellectual Property Attorney
I thought Judge Guilford was terrific. I would use him again.
- Attorney on a Malicious Prosecution Case
Judge Guilford was great at coming up with creative ideas to settle the case that we hadn't thought of. He was quick to understand the facts and the issues. He was terrific!
- Attorney on a Consumer Class Action Case

Print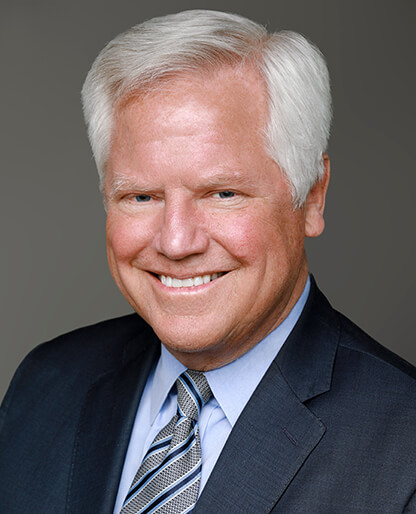 Based in Orange County | Available Nationwide